The community arts center offers creative classes for all ages.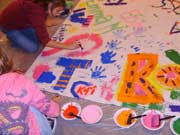 The new year offers new classes for kids and for adults at ARTworks, a community arts center where quality arts educators share their artform in an exciting family-friendly environment (and the home of the Arts Council of Beaufort County!) For adults, classes are offered almost every day, and range from dance techniques for exercise and toning, to military-grade alterations, to jewelry-making and pottery. All sessions include hands-on exploration and insight from practiced art professionals.
ARTworks AFTERschool is for kids 6 to 16 years old, from 4 to 5:30pm, on Tuesday, Wednesdays, or Thursdays (or take them all!) Family discounts and scholarships available, it's $45 per 7-week class, starting January 6th. Call Colleen to register, 379-2787. Kids classes are: Cultural Stamping, Basic Sewing, Acrylic Painting, Acting Skills, Arts & Crafts Sampler, Handbuilding with Clay, Beading and More, Basic Hand Drumming.