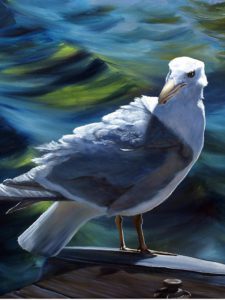 Out of My Head, a showcase of oils by John Gregor, will be on display this June at Art League Gallery. Gregor, a transplant from the Pacific Northwest with a background in engineering, draws attention to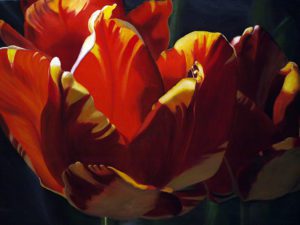 everyday scenes and ordinary objects using bold edges and saturated colors. While his subjects range from landscapes and waterscapes to still lifes and animals, his goal remains the same: to highlight beauty and provoke thought.
"I particularly like to paint the things around us which have beauty and complexity but which we take for granted. Like the way the setting sun shines through a glass of wine. Or the collection of shapes, surfaces and colors in everyday tools—a corkscrew, scissors, a can opener. Do we see the beauty of these mechanical marvels?"
Gregor found his love of painting after a 17-year-long engineering career. After dabbling in acrylics, he went on to earn his Master of Fine Arts and teach painting workshops. When not painting, he can be found remodeling his fixer-upper home near Beaufort.
Out of My Head runs June 1-26, 2021. An artist reception will be held Wednesday, June 9, 5-7pm. Two "Meet the Artist" gatherings will take place on Thursday, June 10 and Tuesday, June 22, both at 1pm. Please RSVP for these events at gallery@artleaguehhi.org to prevent overcrowding.
COVID safety: Art League is following all CDC and Town of Hilton Head guidelines.
Art League Gallery is located mid-island inside Arts Center of Coastal Carolina, 14 Shelter Cove Lane, Hilton Head Island, 843-681-5060.