Barbara James' Fiber Art at the USCB Gallery
Icons of the Lowcountry: Fiber Art by Barbara James continues at the University of South Carolina Beaufort Center for the Arts Gallery now through November 20. This vibrant exhibit is inspired by the lush and exotic landscapes of the Sea Islands.
"The tide, moon, marshes grass, and black-water rivers wrap around you like the soft silk of my art. I have selected fiber art as my medium because I find it endlessly fascinating Fabric excites our senses as it moves and pushes the artist, and the collector, to fully embrace the sight, sound, touch and even smell of the cloth," says Barbara.
Intuitive dyeing and printing guides Barbara th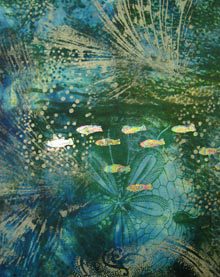 rough the layers of multiple colors and design to create each work. It starts when yards of pure white silk, arrive at her studio. She custom mixes colors to create dye baths. Clamps, stitches or folds the fabric to create a resist and   immerses the cloth, multiple times, in the different baths to create depth and mystery. She then uses any combinations of personally designed silk screens, rubber stamps, stencils, brushes, paint rollers – or found objects like bubble wrap, pine bark, tires or grids – and presses, paints or rolls colors onto the fabric adding multiple patterns of interest. The result are vivid original pieces of art that combine both representational and abstract imagery.
For more information call the USCB Center for the Arts Gallery at 843-521-4145.