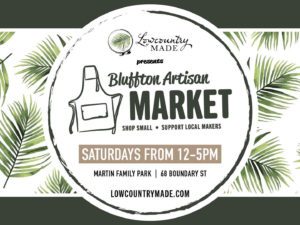 The popular Bluffton Artisan Market now has a second location! Lowcountry Made is thrilled to announce that the market will now take place at Martin Family Park, 68 Boundary Street in Old Town Bluffton, on select Saturdays throughout 2021.
The Bluffton Artisan Market is an open-air shopping event with live music that features local makers from 12-5 p.m. Saturdays May 15, June 12, July 17, August 21, September 18, October 2, and November 20 in Martin Family Park.
"Unfortunately, we couldn't make Southern Barrel Brewing parking lot work this year; but we are so thankful for the Town of Bluffton working with us to find a space!" said Katie Silva, founder of Lowcountry Made, the organization sponsoring the events. "We are centrally located in the park so to leave more space for parking."
The market is also held from 1-5 p.m. on most second Sundays at Burnt Church Distillery, 120 Bluffton Road. A special Special Mother's Day shopping event is being held on May 2nd, and October's market will also be held on October 3 instead of the second Sunday.
For more information on requirements and to apply for the event, visit  https://lcmade.com/register–bluffton–market/ or email  info@lcmade.com.
ABOUT LOWCOUNTRY MADE:
Lowcountry Made is an online community whose mission is to promote Lowcountry makers, connect them with shoppers, and promote business-to-business collaboration. In addition to regular community events, Lowcountry Made hosts an online directory of local makers, produces newsletters for businesses and shoppers and offers other marketing opportunities to increase their exposure. For more information, visit www.lcmade.com.