A new sculpture adorning Hilton Head Airport's redesigned entrance was finally dedicated more than two years after the artwork was installed.
The dedication of "Humanus" – a sculpture created using multiple sections of industrial I-beams that have been twisted, split and cut – by North Carolina-based artist Kevin Eichner took place last month after a long delay resulting from the COVID-19 pandemic.
Eichner's work was previously exhibited as part of the 2018
Hilton Head Public Art Exhibit at Honey Horn. There it captured first-place winner in the juried competition hosted by the Community Foundation of the Lowcountry and was purchased from the artist for permanent display. It was the 11th sculpture to be installed on the island as part of the permanent public art collection started in 2010.
Jenn McEwen, director of cultural affairs for the Town of Hilton Head Island, explained that in 2010 the Community Foundation of the Country approached town officials and pointed out that there was no public art on the island. They argued that public art was an important element to create a sense of community. The town agreed and contributed $50,000 to get a program started. The foundation matched the town's contribution, and they had a $100,000 starting budget.
"Public art on this island started because of the vision of the Community Foundation and their idea about the importance of art in creating a sense of place," McEwan said. "In the last five years, the town has really embraced the growth of that, which helps bring the community together."
Town Hilton Head Island Mayor John McCann echoed that theme when he spoke during the recent dedication.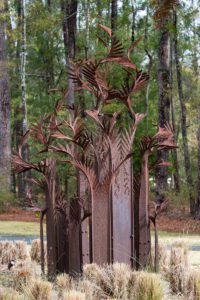 "This sculpture exists because of the community recognition of the value of the arts in creating a vibrant place," he said. "Over the past years, through the support of the town council, the Community Foundation of the Lowcountry and many generous residents, we have been able to grow our public art collection and add vibrancy to the class of Hilton Head."
Eichner currently lives in Moncure, North Carolina with his partner Sonja Hunt. Hunt grew up on Hilton Head and the pair lived there for a while. During that time Eichner had a workshop on the island, and "Humanus" was brought to life in that shop.
"Some of the stuff came from some of the scrap yards around here," Eichner said. "Some of the material (came) from North Carolina that I brought down here. And then some of it came from old buildings that had gotten torn down around here. So there's a history to the pieces. I'm super excited to do what I do with this work because it does take a stiff, rigid beam breathing new life into and playing off the relationships. You can see the generations going on in this piece."
A native of Buffalo, New York, Eichner grew up playing among the echoes of the industrial revolution, and that experience has shaped his life as an artist. He started off with painting lessons from uncle at age 12, and then took sculpting classes as electives while in high school.
"I never was a really good painter," Eichner said with a laugh. "I'm more of a builder than a painter. I learned that when I first got to college and had my first access to a foundry. … Once I took my first sculpture class and started carving into stone and working with wax, rolling around in plaster and pouring bronze, I gave away my paint. It started real young. I've always been stubborn about it."
Eicher earned a Bachelor of Fine Arts from SUNY-Buffalo and a chance road trip to North Carolina led to his attending East Carolina University where he earned a Master of Fine Arts degree.
After graduation, Eichner was in Greenville, North Carolina and found himself without the resources of a university art department. Finding the raw material for his sculptures became a challenge in that rural part of the country that didn't have an industrial past like Buffalo. Good fortune struck when he found a business that fabricated buildings with a dumpster full of scrap I-beams. The business owner politely looked the other way while Eichner carted off everything he could.
"I started working that like crazy," Eichner said. "You see a lot
of sculptures that are stiff, rigid beams, that are painted red and it's just like a stack of sticks. Maybe there's a subtle curve in there. I had these I-beams and the last thing I wanted was to have stiff work."
Movement is important to Eichner. There is an irony in his desire to express movement in materials expressly designed for stability and immobility. To achieve the desired result in his work, Eichner developed a forge that allowed him to twist two beams simultaneously.
"It's taking this industrial beam, giving it individuality and working in Mother Nature," Eichner said. "That's kind of the philosophy behind the work. I express the roots in the cuts that go down into the trunk of the beam. I've gotten crazy good at working with the cutting torch. I've got my 100,000 hours in on it."
Eichner said that the initial two-beam sculptures represented Hunt and himself. Eventually he integrated a third piece to represent Hunt's daughter. "Humanus" takes that family concept and expands on it.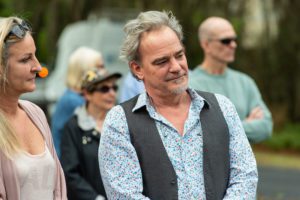 "The piece at Hilton Head represents a little slice of the community," he explained. "The older ones, you'll see rivets and bolts, and you'll see more branches coming off it. I make it look like a 100-year-old tree. You'll notice two of them are kind of hugging each other, working with each other. I play that relationship off. You represent the mother and father, and the child comes in. Sometimes that child is hiding around the back because they're shy. The other one is out front saying 'Hey, look at me.' That represents the brother and sister."
Going forward, Eichner hopes to expand the scale of his projects.
"My goal is bigger, wider, taller," Eichner said. "Maybe you'll see that in the next show you do. So yeah, I won't be a stranger."