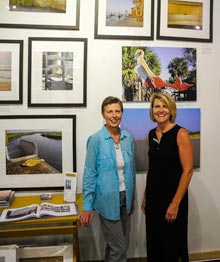 Beaufort author and photographer Janet Garrity will be signing copies of her book "Goin' Down the River, Fish Camps of the Sea Islands" and showcasing her photography at Salt Gallery, 802 Bay Street, on Saturday, October 25, 3pm to 6pm during downtown Beaufort's October Art Walk.
The book, the first ever published about fish camps, was an immediate success in Beaufort, as well as throughout South Carolina and outside the state, when it was released two years ago. Now Garrity is bringing her photography to market at Salt Gallery, featuring photos from her book and other Lowcountry subjects.
"The book, 'Goin' Down the River,' was my first professional photography work, though I've had a camera in my hand since I was a child," Garrity said. "When selling the book, people frequently said to me 'Your photos are beautiful,' so I decided it was time to reach out and offer people a chance to see and buy my work outside of the book. It was also a huge boost to my confidence when CBS bought my print 'Lookin' Down the River' for use as set dressing for its TV drama 'Reckless,' which was filmed in Charleston."
When Garrity showed her work, including the print "Lookin' Down the River," to Kelly Davidson, one of the four owners of Salt Gallery, Davidson was impressed and immediately offered Garrity space in the gallery. Reggie Przybysz, former owner of Art & Soul Gallery in Beaufort, has recently joined Salt Gallery and Garrity looks forward to working closely with Przybysz.
"Reggie and Kelly have experience in the art world that will significantly help me," said Garrity. "I know and love photography, and I have a background in marketing, but there is no substitution for hands-on experience. Working with Salt Gallery offers me that experience and will make me that much better at my craft."
Garrity moved to Beaufort in 2008 from Ithaca, NY. Her professional career was in marketing and sales for 26 years, but her love for photography began at age eight when she picked up a box camera. Since moving to the area, the Lowcountry's changing landscapes have become the primary focus of her photographic work.
Salt Gallery is located in the pink building on the corner of the alley leading to Saltus Restaurant. The gallery opened in February of this year.
"The name Salt Gallery is a bit tongue-in-cheek," Davidson said. "Not only does it pay homage to the Saltus building the gallery is in, but also recognizes 'artists are the salt of the earth'," she said.
More information about Janet Garrity can be found at www.garrity.com. Information about Salt Gallery may be found at www.facebook.com/saltgallery29902 or by calling the gallery at (843) 379-7258.