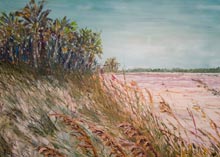 Come celebrate the Golden Anniversary of Beaufort Art Association's Annual Spring Art Show and Sale.  Opening Friday March 18 and continuing through Sunday March 27, the exhibit is again located  at the Charles "Lind" Brown Activity Center at the corner of Greene and Hamar streets, in downtown Beaufort.  Exhibit hours are 10 am to 4 Monday-Saturday, and 12 noon to 4 pm on Sundays.  As one of Beaufort's favorite spring events, BAA welcomes all area artists to become a part of this exhibit.  Please go to the Beaufort Art Association's website, www.beaufortartassociation.com to download the prospectus or pick one up at their Gallery at 1001 Bay Street, Beaufort.  Artwork should be brought to the Lind Brown Center on Saturday, March 12 from 10 am to 3pm.
Guest judge, Savannah artist William Armstrong, will select this year's winners, who will vie for over $2000 in awards. Mr. Armstrong started out at the young age of 14 painting signs for butcher shops, and has since gone on to become one of the world's leading scenic artists, creating dozens of major movie sets.   Armstrong has worked with Martin Scorsese, Steven Spielberg, Spike Lee and Woody Allen. His artwork for The Legend of Bagger Vance brought the painter and his wife to Savannah, which he now calls home.
Armstrong typically works from pen and ink drawings and pencil sketches, carefully observing the landscape and people around him. His luminous Lowcountry landscapes are worlds away from the high-profile movie sets of Brighton Beach Memoirs, Scent of A Woman or Conspiracy Theory; but they enlighten viewers with their heightened sensitivity to the ineffable beauty of a palm tree at sunset or the mystical presence of a weathered wooden dock on the marsh.  Armstrong enjoys creating watercolors on location, in the plein-air tradition, painting a shell-pink and pale-lilac sky over the marsh at sunset or celebrating the view across the river. Inspired by the watercolors of John Singer Sargent, Armstrong explains that he strives for "looseness with the brush strokes" in his watercolors, which showcase palm trees with spiky fronds silhouetted against plush, diaphanous clouds.  "It's amazing what people don't see, even when something is right in front of them," he remarked. "Through my painting I try to help people see the beauty in their own neighborhood and to learn to see the day-to-day changes in the world around us.
To find out more about the BAA Spring Show, contact Lynne Morgan at 843-525-6229