The Society of Bluffton Artists (SoBA) will present the opening reception of their Annual Judged Show on Sunday, Sunday March 15 from 3 -5 PM at their Gallery, 48 Boundary Street, Old Town Bluffton.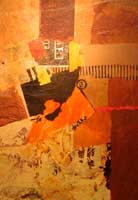 "The quality of last year's show was outstanding, based upon comments from the over 1,000 viewers who attended, and this year's show promises to be even better," states President David Dickson. The show features 110 new works from Beaufort, Bluffton, Hilton Head, Savannah, and Sun City artists and photographers. Awards will presented for the coveted "Best in Show" plus a number of order categories at the event. "We're excited about this year's judge, Holly McCullough," says Jo Dye, this year's event chair. "Holly spearheaded the publication of the Telfair's first collection catalogue and has organized exhibitions of Southeastern artists as well as shows on subjects ranging from contemporary to old masters.."
The public is invited to the reception where refreshments will be served and each visitor will have the opportunity to vote for their favorite artwork. Prize winners will be announced during the reception.