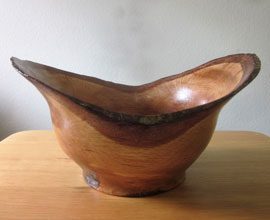 Nicholas Di Mona creates unusual wood sculptures from dead and fallen trees. The beauty and elegance of the knots, inclusions, grain and natural imperfections make the final product a one-of-a-king piece of art. His unique work will be on display from August 7 – September 3 at the Society of Bluffton Artists (SoBA) gallery, located at 6 Church Street. Come meet the artist in person at the opening reception at 5 p.m. Friday, August 11 at the gallery.
"When turning a project, I am the mechanic, but God is the designer," Di Mona said. "I rarely have a predetermined vision of the final product."
Di Mona began carving when he was 10 years old, making objects from his grandfather'€™s wine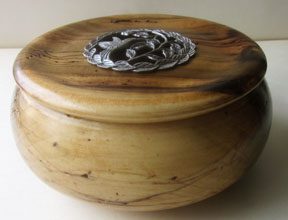 grape boxes. His creations included realistic birds, animals and wood spirits from Basswood.
Di Mona's passion included a stint as a president of the Nature Coast Carving Club of Inverness, Fla. and the Hands On WoodTurners Club of Beverly Hills, Fla. Additionally, he has shared his craft with more than 200 students and demonstrated at the prestigious Florida Woodturning Symposium a number of times.

SoBA is the flourishing art hub in Bluffton's historic District at the corner of Church and Calhoun streets. SoBA offers regular art classes, featured artist shows, exhibitions and more. Please visit www.sobagallery.com for a complete calendar of events and other information or call 843-757-6586.