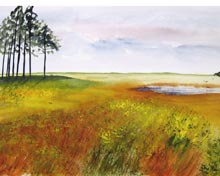 The Beaufort Art Association presents "An Artist's Journey" by Arlene Peck.  The exhibit will run from April 15
th
through May 21st.  The opening reception will be Friday, April 15, 2011, from 5:30 to 7:30.  This reception will also mark another milestone for the Beaufort Art Association. The gallery is moving from the historic Elliott House to 913 Bay Street.  The public is invited to attend the Gallery Grand Opening Celebration  and "An Artist's Journey" exhibit.
Where did the journey begin? Arlene moved to Dataw Island with her husband, Peter, in 2004 after 25 years in the medical management profession and serving as CEO for a large oncology practice in Connecticut.  Responsibilities and long hours, in addition to raising two sons, did not leave time to pursue many hobbies or dreams; art was not a priority. In 2006, while vacationing in Italy to explore her Italian heritage, Arlene was intrigued by the people, culture, and landscape. Though she didn't know it at the time, her journey as an artist began here. Upon her return, she took brush to paper and tried to recreate a Cyprus landscape. "When I look at that piece today," she says, "It reminds me of a child's first watercolor."
Arlene persevered. She took lessons, participated in local workshops, and spent hours working on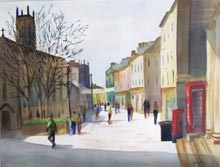 paintings. With every brushstroke, Arlene deepened her interest in art and expanded her knowledge. The Dataw and Beaufort art communities continued to encourage her. Arlene has exhibited her paintings in local galleries.  She is an associate member of the South Carolina Watercolor Society, American Watercolor Society, National Watercolor Society, and the Southern Watercolor Society.  Arlene welcomes you to her exhibit and shares with you her paintings and hope that you derive as much pleasure from viewing them as she has had in creating them.