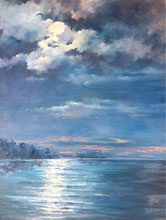 Peggy Ellis, a popular teacher with a loyal following, returns this March to teach students how to explore capturing light in oils in her 3-day workshop "Dawn to Dusk, Capturing Light in Oils." Instruction includes step-by-step tips and techniques, including strong composition, value studies and color harmony. All skill levels are welcome. 
Ellis is a gifted teacher able to instruct beginners and more seasoned artists alike. "She is such a positive force in the workshop—truly the perfect teacher for people who don't know where to start," says one admirer. "I have personally taken four to five three-day classes from Peggy and come away from each class with a greater knowledge of painting," says another.
"Dawn to Dusk, Capturing Light in Oils" will be held Monday-Wednesday, March 9-11, 9:30am-3:30pm each day. The cost is $350, or $315 for Art League members. A supplies list will be provided; students are welcome to bring their own supplies or purchase a supply kit for $100. To register or for more information, call 843-842-5738, email academy@artleaguehhi.org, or visit artleaguehhi.org.