If you're looking for unique holiday gifts, look no further than Lowcountry Made's Bluffton Artisan Market. Local artists, artisans and makers from around the Lowcountry will be selling their wares during the open-air market, from 1-6 p.m. Saturday, Nov. 14 in the parking lot at Southern Barrel in Buckwalter Plaza in Bluffton. Attendees should park in front of Ace Hardware.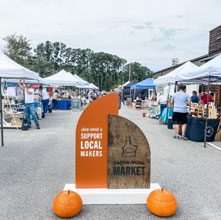 A two-day Christmas market will take place from 11 a.m. to 6 p.m. Nov. 27-28.
"We are excited to gear up for the fall series of the Bluffton Artisan Market! It's a wonderful opportunity to support local makers and engage with the creative community," said Katie Silva, founder of Lowcountry Made, the organization sponsoring the events. "We insist that everyone – vendors and attendees – wear masks and practice other social distancing best practices."
Lowcountry Made is a promotional organization that represents a collective of Lowcountry artists, artisans, and entrepreneurs creating in the Lowcountry. Dedicated to encouraging the community to shop small and local, Lowcountry Made offers an online directory, a maker-to-shopper newsletter, special events, wholesaling representation and more. The organization's goal is to provide opportunities for local makers to help their brands succeed whatever each maker's goals may be. 
"The open air markets provide an opportunity for families to get out of the house and feel a part of their community again in a safe way," Silva said.  
The Bluffton Artisan Markets are sponsored by Sea Smiles Pediatric Dentistry, 7th & Palm, Everlasting Memories and CPM Federal Credit Union.
About Lowcountry Made
Lowcountry Made is an online community whose mission is to promote Lowcountry makers, connect them with shoppers, and promote business-to-business collaboration. In addition to regular community events, Lowcountry Made hosts an online directory of local makers, produces newsletters for businesses and shoppers and offers other marketing opportunities to increase their exposure. For more information, visit www.lcmade.com.