Novelist Ruth Watson brings Maggie Lena Walker back to life.
By Marly Rusoff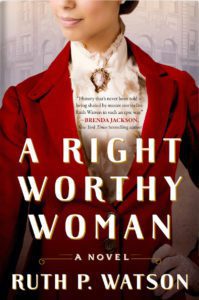 If you are looking to be inspired, look no further than your favorite bookstore. A Right Worthy Woman is a fascinating novel by Ruth Watson based on the remarkable true story of Virginia's Black Wall Street and the indomitable Maggie Lena Walker, the daughter of a formerly enslaved woman who became the first Black woman to charter and preside over a bank in the United States.
Publishers Weekly recently called the novel "illuminating."  And the prestigious Historical Fiction Review wrote, " …A Right Worthy Woman takes its place alongside novels such as Rebecca Dwight Bruff's Trouble the Water, illuminating African-American heroes born in strife who find the strength, fortitude, and love to lead lives touched by grace."
An appearance by the Atlanta based author Ruth Watson will be sponsored here in Beaufort by The Pat Conroy Literary Center, in cooperation with The Black Chamber of Commerce on Friday, July 7thin the Chamber's second floor ballroom, located at 711 Bladen Street, Beaufort. The event runs from 5-7 pm.  Watson will be onstage in conversation with local author Rebecca Dwight Bruff and Dataw Island resident Marilyn Harris, admired for her work with boards of the United Way of the Lowcountry, Second Helpings, and the Boys and Girls Club. To register for this event, visit https://aneveningwithruthpwatson.eventbrite.com
Who is this woman Maggie Lena Walker, and why did Ruth Watson decide to devote her talent to sharing her story?
Maggie Lena Walker was ambitious and unafraid. Her childhood in 19th-century Virginia helping her mother with her laundry service opened her eyes to the overwhelming discrepancy between the Black residents and her mother's affluent white clients. She vowed to not only secure the same kind of home and finery for herself, but she would also help others in her community achieve the same.
With her single-minded determination, Maggie buckled down and went from schoolteacher to secretary-
treasurer of the Independent Order of St. Luke, founder of a newspaper, a bank, and a department store where Black customers were treated with respect. With the help of influential friends like W.E.B. DuBois and Mary McLeod, she revolutionized Richmond in ways that are still felt today. Watson decided to share her story in this stirring and intimate novel.
"Mrs. Maggie Lena Walker is a hidden figure whose story should rank high within the pantheon of  American heroes or sheroes,  yet she is virtually unknown by most Americans, with the exception of those from Richmond, Virginia," said Ruth Watson in a recent interview. " Her indominable spirit ghosts us even today. As an African American in 1903, her name deserves to be exalted among those who believe in the nearly supernatural power of faith in God and the necessity for perseverance. We can all learn from her life."
Come meet Ruth Watson, author of numerous novels including Blackberry Days of Summer, An Elderberry Fall, Cranberry Winter, and Strawberry Spring. A musical stage play, Blackberry Daze, is based on her debut novel. She is the recipient of the Caversham Fellowship, an artist and writer's residency in KwaZulu-Natal, South Africa, where she published her first children's book in Zulu, Our Secret Bond. She is has written for Upscale, Atlanta Journal-Constitution, and other publications. She is an adjunct professor and project manager, who lives with family in Atlanta, Georgia.
While the event is free, your donations to the sponsoring nonprofit will be deeply appreciated. Signed copies of the books will be available for purchase.
Bring your book club and friends to this not-to-be- missed event on July 7th.
Want to go?
What: Ruth Watson discusses A Right Worthy Woman with Rebecca Bruff and Marilyn Harris
Where: Black Chamber of Commerce, second floor ballroom, 711 Bladen St, Beaufort
When: Friday, July 7, 5 – 7 pm
More information and to register: https://aneveningwithruthpwatson.eventbrite.com