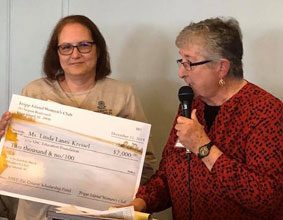 The Fripp Island Women's Club offers an annual The Water Is Wide / Pat Conroy Scholarship, in honor of beloved author Pat Conroy (1945–2016), who made his home on Fripp Island for many years. One of his earliest books, The Water Is Wide, captured his passion for education as a teacher on Daufauskie Island.
Conroy believed in equality for everyone and was a strong advocate of the importance of education and lifelong learning, as a teacher and throughout his writing life. In keeping with Conroy's legacy, this scholarship is intended for any older adult who may not have had the opportunity to continue their education. 
The scholarship is open to any student attending the University of South Carolina Beaufort or the Technical College of the Lowcountry who is twenty-one years or older, a Beaufort County resident, and seeking an undergraduate degree or a technical certification. Students whose education may have been interrupted or who desire to continue their education are encouraged to apply.
The Fripp Island Women's Club created the scholarship after Conroy's death in March 2016, and the $2,000 award is now administered by the nonprofit Pat Conroy Literary Center, established in his honor. Funded by Club members and private donors, three scholarships have been awarded to date, most recently to USCB nursing student Linda Lanni-Kreisel. To learn more about the scholarship—and to apply or donate—please visit www.frippwc.com/scholarship.html or contact Nancy Wingenbach at 330-618-8171.