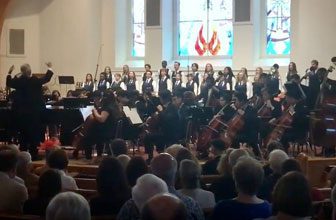 Yes, they are coming again this year.  For the 16thconsecutive year, Duke University's Symphony Orchestra will perform in Beaufort. This year's concert will be hosted by the Foundation for Leadership Education, which promotes leadership education for youth throughout Beaufort County.  
Speaking from Durham, Conductor Harry Davidson expressed his thanks to Beaufort Memorial Hospital for establishing this unique relationship between the orchestra and the Beaufort Community.  "These students and I are proudthat the proceeds of the orchestra's Beaufort performances have help fund new programs at Beaufort Memorial, especially the Healing Arts program. We look forward to providing visibility for the new leadership education foundation and helping to fund scholarships that will strengthen their effort."  He continued, "Not only are our students proud to help such worthy causes, but the warmth and hospitality of so many Beaufort area residents makes this a highlight of our year."  
Another aspect of the Orchestra's special relationship with Beaufort has been the featuring of a local youth chorus. Music educator Vic Varner works closely with Davidson to provide orchestration for the instruments to allow his Beaufort students to sing with the accompaniment of a full-fledged symphony orchestra.  Varner and Davidson's collaboration has provided this opportunity for Varner's singers from Beaufort High and USCB, and now, for the second year, from his "Blue Notes" ensemble from Beaufort Academy. "This is a rare experience for a youth chorus and is a boost to the development of our students," says Varner. 
The concert takes place in Beaufort at the USCB Center for the Arts on Saturday, April 6 at 7 pm.  For tickets, go online to www.LowcountryLeaders.comor call 843-476-3027.  Tickets are $40, or $80 to include Conductor's reception in an historic Beaufort home.