The Maye River Gallery in Bluffton will be hosting an exhibit of watercolors by Doris Shay from Monday, January 18 through Sunday, March 14, 2010.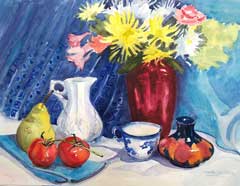 Doris and her husband, Willis, have long been active in the Hilton Head arts community. Willis has worked extensively with the Hilton Head Symphony and The International Piano Competition while Doris has quietly produced lovely visual images in watercolor and oil.
Doris attended West Virginia University where she received a Bachelor's degree in Fine Arts. After marrying and rearing three children, she returned to her artwork and helped to promote the Arts in Clarksburg, W. Va. In 1981, she and her husband Willis Shay moved to Hilton Head Island. She immediately became Involved with the very active Art League on the island. When the Art League opened it's first gallery in Sea Pines, she was a featured artist for one of their first solo shows. Over the year Doris has had many one woman shows and remained involved with the League's growth including chairing its first juried show which has now grown to an annual widely acclaimed international.
Watercolor is Doris' favorite medium and the exhibit will be filled with vibrant paintings of flowers as well as still lifes and landscapes of Lowcountry scenes and images from her many travels. In Savannah, Doris showed her work at the D and B Shop on Bull St. for many years until it's closing. Her work has also shown at in Savannah's Elan Gallery (now the Chroma Gallery) and the Sandfly gallery. She was among the the first exibitors at the annual Art Fair of Telfair and showed with them for 5 consecutive years.
Doris has studied with artists of national acclaim such as Judi Betts, Tom Lynch, and Jeanne Dobie as well as others. She and her husband maintain a home on Hilton Head Island where she has a studio in her home.
A reception for the artist will be held on Friday, January 22 from 5 – 7 p.m. The Maye River Gallery is located at 37 Calhoun Street, Bluffton. For more information contact the gallery at 747-2633.