Although it's known as a place to take in a concert by a bicycle-traveling cellist, or to take workshops on the business side of art, or to take a stroll through all the studios and galleries, ARTworks is also a place to make.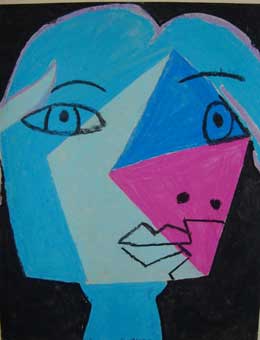 Hands-on workshops for adults are constant, and on January 12th, the next session of ARTworks AFTERschool begins for kids 6 to 16 years old; registration is now, scholarships available while they last.
Victoria Smalls is continuing her color-saturated Pastels class, where students ages 9 to 16 can learn pastel techniques using line, shape and blending to create one of a kind pieces of art. "I enjoy all the different skill levels the students come in with," she explained, "and I enjoy seeing them work through the process of getting to their finished product, they get so involved. They make beautiful creations. One of my main suggestions to them is to blend. Some just like to draw, but pastels should be painted into the paper, smoothed in. I also often ask students to take a moment, and stand back and think about what they're about to create, to take breaks and visualize."
The expressive CJ Norwood will lead the Introduction to Ceramics class, for kids 6 to 9. Students will experience the basic techniques of hand building pinch pots and coil pots, as well as slab construction. For kids 10-16, Deanna Bowdish offers printmaking, helping kids make their marks in a civilizationally-significant art, using potatoes prints, linoleum carving, and the monotype process. Kristen Hill, who is the Music Director of Low Country School of Performing Arts, will work with kids 10 to 13 to learn about Musical Theater. "They'll learn about projection and enunciation, characterization, and the history and vocabulary terms of musical theater. They'll also work on their improvisation skills by participating in games, scenarios, and pantomime, and through observation and movement activities."
Circus Skills, lead by JW Rone, the executive director of the Arts Council of Beaufort County, are the physical arts of juggling, balancing and clowning. The class will also cover the relationship of these impressive skills to the broader discipline of performance, for kids 10 to 15. Independent Digital Film & Documentary Production with Julian Gooding, who's the media producer at outsidetheboxmedia.com, is a great introduction for any child who's interested in a career in movie making. "This class is hands-on from day one," Julian explained. "Through creative play, the complexity of digital filmmaking is made easy for children without sacrificing techniques and tools. Kids will be using three chip Canon XL2 Camera, LTM lighting, boom/lav mics and Final-Cut Pro non-linear editing. Kids will complete a short film or documentary together using their own imagination and production approaches." Students do not need their own equipment but are encouraged to bring in any equipment they are presently using to class to better understand its functions.
Expert sewer and sculptor Pat Willcox continues with Basic Sewing, for 6 to 9 year olds, who will learn the basic concepts of laying out a pattern, cutting out fabric, piecing shapes and creating a garment. And 10 to 16 years old can work with ARTworks resident artist Peggy Carvell in her Jewelry Making, Hammered Metal sessions, to learn jewelry design and techniques, cutting, texturing, and doming copper. Students will focus on designing and creating their own one of a kind necklace.
Then it all ends on February 26th @ 5pm with a celebratory Community Showcase, free to everyone who wants to admire the amazing work of nascent artists. "I really enjoy the artist showcase," said Victoria Smalls, with her becomingly pastel-smudged fingertips. "I hold all their work after each class, and when I bring out the pieces for the showcase, the students are like 'wow!' and their parents are in awe. They credit me, but it's not me, I just give the kids some guidance, so I tell the parents 'no, it's your child's work.'"
ARTworks AFTERschool is $45 per child, per class, for seven weeks of Quality Arts Education. Family discounts & limited scholarships available: 843-379-2787, beaufortcountyarts.com, or register in person @ ARTworks in Beaufort Town Center, 11 to 6 Tuesday-Friday, & 11 to 3 on Saturdays.