A charming bronze sculpture now welcomes visitors to the BAA Gallery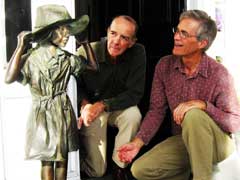 "Holding On," a lifesize cast-bronze sculpture of a little girl holding on to her sun-hat, is now gracing the porch of the Historic Elliott House on Bay Street.
The sculpture, by Norman Mansson, is the Seabrook, SC sculptor's third installation in downtown Beaufort. "Calling Home," two little boys at a pay phone, is just inside the Old Bay Marketplace. "Helping Hands," one young girl helping another at a drinking fountain, adorns the entrance to the downtown branch of the Beaufort County Library.
Part of a series called "Children At Play," these and other pieces were inspired by Mansson's own three children. His sculptures are represented by galleries in Hardeeville, SC and Martha's Vineyard, and are also part of many private, corporate, and civic collections across the country. To see more of his sculptures on line, visit www.normanmansson.blogspot.com.
You can visit the little girl who's "Holding On" at 1001 Bay Street on the corner of Bay and Charles. She can be seen on the porch at the doorway of the Beaufort Art Association Gallery. You can see her from street level, but walk on up! Take a picture … perhaps with your own child or grandchild beside her. And come in and visit the BAA gallery when you do.