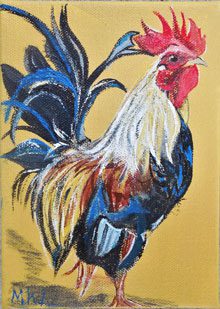 Mary Kay Long's art exhibit in November combines her love of painting and music. Long named all of her paintings after song titles for her upcoming show, "With a Song in My Heart." She's also kicking off her opening reception with a fun, music-inspired contest from 3-5 p.m. Nov. 10 at The Society of Bluffton Artists (SoBA) gallery, located at 6 Church Street in Old Town Bluffton. 
www.sobagallery.com
During the opening reception, visitors will be asked to fill out an entry form to guess the song title of a special prize painting from Long's collection. All correct entries will be entered into a random draw to determine the winner of the special prize painting. The contest will be ongoing throughout the exhibit. The winner will be notified Dec. 2. 
"With a Song In My Heart" art exhibit will include a variety of themes, including marshscapes, beach scenes, birds, animals and a few surprises. The exhibit runs from November 4 through December 1 at the SoBA gallery. The events are free and open to the public.
"Painting stirs my creative juices," Long said. "I am completely self-taught and what started as a pastime for my own pleasure has evolved into becoming involved in the very active art community in Bluffton."
Long's paintings are regularly exhibited at the SoBA gallery, Coastal Exchange, The Complete Home, and Alexander's Restaurant and Wine Bar.
Long spent her youth exposed to fine arts, gravitating more to music, theater and ballet. She trained as a vocalist and spent time in musical theater. Today, painting offers never-ending stimulation and satisfaction. 
"I work around the canvas as the mood takes me," said Long. "I may spend time on one aspect and find that working with a certain color or brush prompts me to move to a different part of the image."
For more information on Long's artwork, visit her Facebook page at https://www.facebook.com/smallpackagesstudio/. For more on the SoBA Gallery, visit www.sobagallery.com