The Society of Bluffton Artists (SoBA) will present "Point of View" a collection of oil paintings by Deanna L. Brown from June 1 through July 11.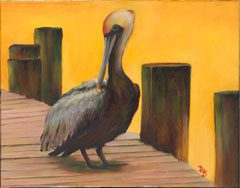 Deanna's point of view zooms in on local wild life – figurative works as well as still life. Visitors will find intuitively and colorfully painted canvases that portray a sense of simplicity and charm.
The public is invited to a reception for the artist on Sunday June 7 from 3 p.m. to 5 p.m. at the Gallery where refreshments will be served. The gallery is located on Boundary Street in old Bluffton and is open Mon. through Sat. from 10-5. Call 843-757-6586 or visit the SoBA web site at www.sobagalleries.com for more information about the organization and participating artists.