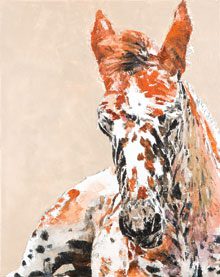 David Noyes: Portraits opens at Art League Gallery November 8 and runs through December 3, 2016. The public is invited to the artist's reception on Thursday, November 10th from 5 – 7 pm.
Portraits will concentrate on Noyes' interest in horses, the Princess Diana legacy and the iconic presence of the lighthouse. Noyes explains his "work expresses my interest in combining abstract and representational imagery using color and texture."
David Noyes, an accomplished painter, illustrator and educator moved to Hilton Head in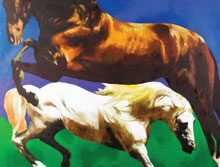 2013. Noyes holds a BFA from Pratt Institute in Brooklyn, NY and is an Emeritus Professor at the Tyler School of Art Temple University in Philadelphia, PA. Throughout his career, Noyes won numerous awards while illustrating for many major publications including Sports Illustrated, Life and Time. Noyes has exhibited many of his paintings in museums and art galleries, such as O.K. Harris Works of Art in New York City.
David Noyes has always been exceptionally interested in the image of the "horse." That image always brings him back to a quote from the poet, Pam Brown, "A horse is the projection of peoples' dreams about themselves . . . strong, powerful, beautiful and it has the capability of giving us escape from our mundane existence." Throughout Princess Diana's career, she became every young girl's dream. This dream was eventually destroyed by the same media who once adored her. Noyes' iconic images of the "lighthouse" will also be represented.
Art League of Hilton Head Gallery is located mid-island, inside Arts Center of Coastal Carolina, 14 Shelter Cove Lane, Hilton Head Island, 843.681.5060,www.artleaguehhi.org