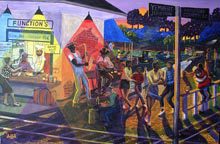 The artwork of James St. Clair will be in the gallery @ ARTworks, April through May 2012. The Artist Reception is Friday, April 27, 6 to 8pm.
James St. Clair is an award winning South Carolina artist. Many of his paintings depict the rich heritage and culture of the Lowcountry and the Sea Islands. His visual stories tell tales of work, humor and adventure, in acrylics on many surfaces, including canvas, paper, clayboard, masonite, wood and even newspaper. Some of his most popular series of paintings are Harlem Renaissance, Lowcountry Folktales, Black and Blues, the Adventures of Geechee Joe and Gullah Girl, and the Misadventures of The Chickens, as well as scenes from Daughters of the Dust. A multi-media artist, his screenplay "The Test" was selected as one of the finalists in the 2012 Charleston International Film Festival screenplay competition.
ARTworks is in Beaufort Town Center, at 2127 Boundary Street, along with KMart and BiLo. It is a community arts center, and the coolest arts council in the Carolinas, applying the many creative tools of The Arts to strengthen artists, and enrich audiences, collectors, and visitors through high quality arts experiences and arts education programs 365 days a year. 843-379-2787, www.artworksinbeaufort.org.