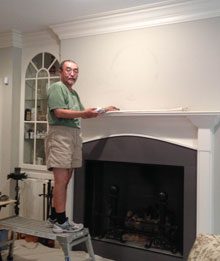 Beaufort artist Aki Kato has been invited by the Pat Conroy Literary Center Board of Directors to paint a Lowcountry mural on a free-standing screen for display in the temporary home of the Literary Center at 308 Charles Street.
            The screen is three, 4 X 8 panels and will feature the Woods Memorial Bridge along with other notable characteristics of the Lowcountry.
            Aki is a local artist who creates breathtaking murals that lend a sophisticated ambiance and dramatic presentation different from traditional wall-hanging artwork.
            At the September Habitat for Humanity fundraiser, Mayor Billing Keyserling purchased the feature item in the live auction – a painted chest donated by Aki.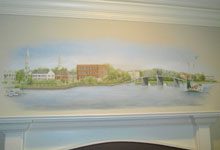 He recently completed a commissioned mural over the fireplace mantel of a client's home that features the Woods Memorial Bridge from the perspective of Lady's Island and showcasing the Henry C. Chambers Waterfront Park and buildings to the left and antebellum homes and marsh to the right. In the background are two church steeples seen from a distance.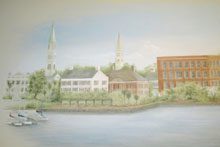 Using a photograph seen in Traditional Home featuring a scene of Venice, Italy as the basic concept, the client asked Aki to paint a Beaufort mural. "It is very helpful when a client has a definite idea or a photograph depicting the concept. It provides us a great starting point for collaboration" Aki said.
            Over the years, Aki Kato has worked on a variety of projects for many members of the Conroy Family. In a tribute to Pat, Aki is honored to have this opportunity to have his work featured at the Pat Conroy Literary Center.