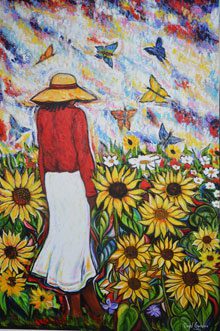 Penn Center celebrates its 34th Annual Heritage Days Celebration, November 10-13, 2016 and honors South Carolina native artist Floyd Gordon, by naming him the 2016 Featured Artist. Penn's York W. Bailey Museum located on St. Helena Island, South Carolina will exhibit a collection of Floyd Gordon's artwork.
            The theme for the Heritage Days Celebration is Remembering Our Roots . . . Embracing Our Future and Gordon's art beautifully depicts the very meaning behind the theme. Floyd Gordon's creations are striking. His acrylic, watercolor, and mixed media paintings have a dramatic feel and are filled with vibrant tones.
            For decades, Gordon has captured the culture, history and traditions of people primarily from the South. While he pays tribute to farmers and crop growers in many of his works, Gordon equally lifts up musicians and performing artists in his Jazz Series.
            Gordon grew up in Rowesville, SC, the son of a sharecropper and one of 13 children. Growing up working the land with his family, Gordon most certainly could have been an excellent farmer. His talent for telling stories and detailing those stories in brilliant-colored pictures took him down a different path.
            "I've always been fascinated by colors," Gordon says. "The first time I really
remember applying my fascination was when I started school, and the teacher gave me crayons and a coloring book. I was so fascinated by the colors and the pictures that I colored every page. I didn't have another coloring book, so I drew pictures to color, and took my book to the teacher."
            By the time he was in second grade, Gordon was using his skills to produce signs, work boards and other teaching aids for his teachers.
            "Back then, they didn't call it art. They called it drawing," he laughs.
            "I remember working as a young boy to save money to buy my first set of paints. It cost me $3.60," Gordon continues. "Then I saved up more money to buy a three-legged wooden easel, which cost me $3.39.
            Gordon sold his first painting when he was in the seventh grade. That same year, his principal cleared the lunchroom and set up a gallery for the budding artist to display his works.
            Sixty years and thousands of paintings later, Gordon still says that was his first real break as an artist. Gordon also gives much credit for his artistic abilities to his collegiate experience at Claflin University.
He first visited Claflin in the eighth grade, when his first art teacher, James McFadden ('54), introduced him to Arthur Rose, the University's art chair. Rose would go on to teach Gordon how to wield a paintbrush and capture life on canvas.
While at Claflin, Gordon was drafted by the U.S. Army and stationed in Germany. Gordon said he remembers being inspired by the bright lights of the German city of Nuremberg as he descended from the darkness of night in a plane. "It was so striking at the time," he says.
            He returned home in 1969, but didn't re-enroll at Claflin. Gordon worked various jobs, including at the U.S. Postal Service, and owned an art gallery in Hollis, N.Y.
            He rekindled the desire to fully delve into his art upon returning to South Carolina in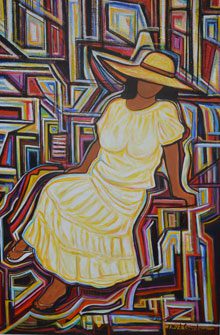 1978, but times were tough, and Gordon wound up working at a gas station in Orangeburg. It was at that station, by chance, that Gordon saw Claflin's sixth president, the late H. V. Manning. Manning encouraged Gordon to return to Claflin to pursue his art degree. "He lit a fire under me that I needed to finish what I started," Gordon says. "Claflin has always been my extended family."
            After finishing Claflin, Gordon's career catapulted. He traveled across the nation for art shows, and opened Unique Gallery and Frame Shop in Orangeburg to sell his works.
            Over the years, his artwork has been collected by not only the rich and famous, but by the plain and ordinary, as well. And that's the way Gordon likes it.
"I want my paintings to have meaning to all people who see them and enjoy them," he says.
            His gallery is as much a museum of Southern culture as it is a building that houses Gordon's paintings. Among his current works is a large canvas filled with brilliant reds and oranges. At first glance, it appears to be a young woman hanging out laundry and dreaming of her life. However, a more detailed inspection reveals that the young woman is admiring two quilts that tell a detailed story of changes in the rural South.
            Gordon says to paint a picture, he has to visualize it.
            "I keep adding colors and details until it looks good to me," he says. "If it's not right to me, it won't be right to anyone else. I paint pictures that I like, and if I do them right, other people will like them, too."
            The artist is now an author of The Unique Art of Floyd Gordon, which celebrates heritage, culture and history. Within the 368 pages are nearly 600 faithful reproductions of his magnificent art representing 60 years of oil paintings and watercolors. The Unique Art of Floyd Gordon; three years in the making is a beautiful large format, high quality coffee table book encased in a fitted slipcase. Every picture he draws has a story and Gordon is almost as adept as a verbal storyteller as he is with his paintings.
            The public is invited to attend a meet the artist, wine and cheese reception at the York W. Bailey Museum at the historic Penn Center, located at 16 Penn Center Circle West,
St. Helena Island, SC. The reception will be held 7:00-9:00 p.m. on Thursday, November 10, 2016 and is free and open to the public. For more information, please contact Ms. Ingrid Owens, Director of History, Art and Culture (843) 838-7105 or info@penncenter.com. For a full listing of Heritage Days Celebration events visit www.penncenter.com.