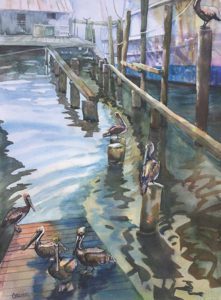 Plein Air in Watercolor with Catherine Hillis is a 2-day workshop for intermediate and advanced watercolor students held by Art League Academy May 13-14, 2022. Students will learn the logical steps for painting successful watercolors outdoors—including picking the right equipment for their personal style, selecting a location, and setting up in the field. Daily onsite demonstrations will cover the basics of composition and perspective.
Hillis is drawn to scenes that are often forgotten or neglected—a shop window, a bowl of vegetables, a collection of adirondack chairs—and finds the intrinsic beauty in them. "My paintings can be described as traditional landscapes, still lifes and figures, but I try to use my unique perspective to draw the viewer into the world as I see it, incorporating humor or beauty whenever possible in unexpected places," says Hillis. "As an eager traveler, I try to view everyday subjects with fresh eyes."
Hillis has won hundreds of awards and honors at competitive shows regionally and nationally. She's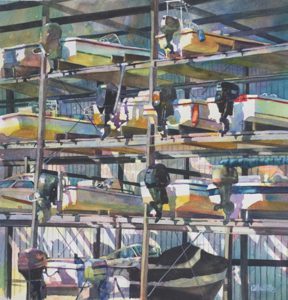 earned eight Signature Memberships from national watercolor organizations and was one of 40 elected members of the prestigious Washington Society of Landscape Painters. Her work has been published in Fine Art Connoisseur, Watercolor Artist, PleinAir, American Artist, and other publications.
The cost for the workshop $330; $297 for Art League members. Friday & Saturday, May 13-14, 9:30am-3:30pm each day. Outdoor location is to be determined. The class will be held indoors in case of inclement weather. Art League Academy is located south-island at 106 Cordillo Parkway, Hilton Head Island, 843-842-5738.