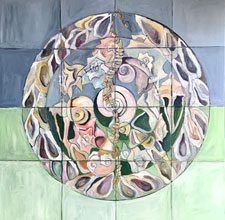 Masked, Hiding Behind Plain Sight, an exhibit of artwork by Judy Blahut, will be on view at Art League Gallery November 3-28. Blahut's work, reminiscent of kaleidoscopic images, is largely abstract and inspired by nature. This collection of acrylic paintings, charcoal drawings and sculptures aims to explore the space between the observable and the hidden in the form of an object. Blahut deconstructs natural objects such as plants and shells and reassembles them in a new way, thereby creating a new relationship between the object and the viewer. "It's an exploration of life interrupted yet forever connected," she says.
Blahut's background is in education, yet painting has always been her passion. "My paintings are an extension of my emotional and physical life. They are the most authentic part of me…They are the expression of the inner emotional places that I pass through daily. The painting's method is interrupted and fractured in order to illustrate the fragility of what we experience and hold as our truth, masked or obvious." 
An opening reception will be held Wednesday, November 4, 5-7pm. Blahut will lead a gallery walk on
Wednesday, November 11 at 11am, and hold a demo of her work on Wednesday, November 25 at 11am. Please RSVP to gallery@artleaguehhi.org in order to attend any of these events as spots are limited to facilitate social distancing.
Art League Gallery is dedicated to providing as safe an environment as possible. To that end, Art League is following all CDC and Town of Hilton Head guidelines, including mandatory masks for patrons and all employees, contactless and cashless service, frequent sanitization of the gallery, and a limit of 10 visitors in the gallery at any one time except during special events.
Art League Gallery is located mid-island inside Arts Center of Coastal Carolina, 14 Shelter Cove Lane, Hilton Head Island, 843-681-5060.