Black and white photography by Donna Varner and Jean-Marie Côté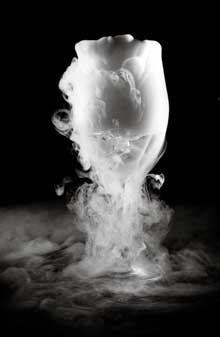 The mystery and modernity of black and white photography come to the Lowcountry at the hands of fine art photographers Donna Varner and Jean-Marie Côté.
The exhibition, Unspoken Dialogue, opening March 5th at the Art League of Hilton Head, is strong on design and emotional appeal. The show will run the month of March at the Walter Greer Gallery At the Arts Center of Coastal Carolina.
Artists Donna Varner and Jean-Marie Côté have followed their respective muses into the black and white genre and the results are striking. Varner's work is part street photography, part textural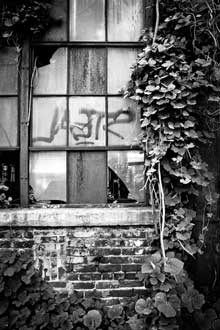 exploration. The work is almost always moody and graphic. Her dialogue with the viewer employs an occasional twist of irony and an invitation to invent a story. Though rich with detail, many of the images convey emptiness.
Côté's work is as mysterious as it is technically excellent. He creates form from light and shape from shadow. His works are high contrast, dark and distinct, simple and sharp, or in his words, "noir." Literal emptiness surrounds the main subjects; the absence of detail sharpens our view.
The photographers reach common ground in their attention to the details in their subjects. Both are intent on directing the viewer's eye toward something that s/he might not have seen: edges and shapes, patterns in surface texture, elegance in the ordinary. One wants to touch the surfaces, taste the fruit, and sip from the steaming martini glass.
Varner and Cote are a couple, partners in life and photography. While their passion for their art is equally strong, what they shoot and how they approach their work is quite different. Varner and Cote have long been fascinated by the observation that they can be shooting in the same place at the same time and end up with completely different images.
For this exhibition, the two photographers created a project: what would happen if each independently followed a single theme: Unspoken Dialogue? There were only two rules: the finished images must be black and white and they must be strong on design elements.
The result of this venture is striking. Unspoken Dialogue is made up of individual photographs that are remarkably different but that communicate with one another by unity and harmony of their design elements. One sees dissimilar images that are connected by shape, value and texture. For instance, when swirling steam spills down the side of a wine glass much like the cascade of ivy around a warehouse window, or when the light reflecting off a pair of apples echoes the glow emanating from a phone booth on a dark street, one wonders about the tacit connection, the unspoken dialogue between these two artists.
Enigmatic yet approachable, Unspoken Dialogue, presents fine art photography that offers unexpected views of artful nature of the world around us.
Unspoken Dialogue, black and white photography by Donna Varner and Jean-Marie Côté
Runs March 5 through the 30th
Arts Center of Coastal Carolina
14 Shelter Cove Lane
Hilton Head Island, SC 29928
Opening Reception: March 6, 2013 from 5:00 – 7:00 pm at the Walter Greer Gallery