Penn Center is currently hosting "Imagination Unlimited," an exhibition of mixed media art by Hank Herring, which will run through June 5th. Featured artwork includes composite materials, metals and small diameter wood drawn from the artist's unlimited imagination. This is event is open to the public.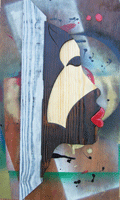 A native of North Carolina, Hank Herring, a self-taught mixed media artist, is well known in the Beaufort arts community for his unique style of working with "rescued materials and found objects." Working with driftwood or found wood, Herring illustrates the natural patterns of human and animal forms without the manipulation of tools or paint.
"Using rescued materials in my work reminds me that the future can be built by using the past, whether it's advice, thoughts or objects," says Herring about his approach to working with objets trouvés.
Herring has been a featured artist in the National Black Arts Festival and the Children's Education Village, both in Atlanta, Georgia. He has also exhibited at the Fort Jackson African American Black History Month Celebration in Columbia, SC; the CHA 2005 Trade Show in Dallas, TX; the Beaufort Harlem Renaissance; the Beaufort Gullah Festival and the Penn Center Heritage Days Art Festival. As an arts educator, Hank Herring has taught in many classrooms throughout Beaufort County. He is actively involved in serving with many arts organizations, such as the Arts Council of Beaufort County and the Beaufort Arts Association.
Herring worked with the Penn Center Community Based Forestry Program, creating small diameter wood products from materials rescued from the forest floor on St. Helena Island. Through his artwork, Herring believes by being a steward of the environment we can preserve and protect the forest without destroying it.