Hospice chaplain Kerry Egan listens to stories at work everyday. Now she's telling them, too – along with her own – in her book 'On Living.' She says the dying have a lot to teach us.
By Margaret Evans, Editor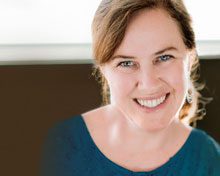 I'm on the phone with Kerry Egan for two solid hours. That's a half hour longer than Terry Gross kept her on the line for their "Fresh Air" interview on NPR. Pretty nervy of me, huh? Terry Gross is a hero of Kerry's. I'm just some stranger from Beaufort.
But I've spent the last few days reading Kerry's luminous memoir On Living (Riverhead Books), so she's no stranger to me. And from the uproarious laughter, to the "me, too!" moments, to the overlapping outbursts of confession, our conversation feels more like a reunion with an old friend – one who knows all your secrets and loves you anyway. My guess is that most people feel that way about Kerry Egan.
I don't know which came first: the warm, engaging, let's-be-besties personality or the career as a hospice chaplain. But I'm pretty sure the former serves the latter well. When you interview Kerry, she interviews you back. You find yourself telling your own story even while extracting hers. It's not surprising, really, because according to Kerry, listening to stories is the biggest part of her job. It's what she does. And it's what she loves to do.
"It's the most thrilling job in the world," she says. "My friends can't believe it when I say that, but it's true. I go on an adventure every day I go to work. I get to sit there listening to these people – they tell me their big stories – and it's like living a thousand lives. I feel like I've lived a thousand lives."
Kerry didn't set out to become a hospice chaplain, though she didn't set out not to, either. A Catholic schoolgirl from Long Island, NY, she adored the study of religion in high school, majored in religion at Washington and Lee, then followed her fascination to Harvard Divinity School, assuming she'd end up a Professor of Religion.
"But then my father died," she says. "It was the first real loss I'd ever experienced and it threw me for a loop. I ended up taking a semester off."
Around that time, a friend of Kerry's told her about the Camino de Santiago – the Way of St. James – and the spiritual pilgrims who come from all over the world to walk the path to the Cathedral of Santiago de Compostela in northwestern Spain.
"The minute I heard about it, I knew I had to do it," she says. So Kerry and her boyfriend, who's now her husband and father of her two children, spent six weeks on the Camino in the punishing heat of a Spanish summer.
"And nothing got fixed," she says. "I got no big answers. But something happens when you walk for hours a day in 100-degree weather. What I gained was an understanding of intuition, the ability to calm my own brain and listen for that still, quiet voice people talk about. Once you learn to hear that voice, it's everywhere."
When she got back to Harvard, the still, quiet voice encouraged her to do an internship in Chaplaincy at the Dana-Farber Cancer Institute. She fell in love with the work.
"I'd always enjoyed my religious studies. Reading the great theologians – Aquinas, Augustine, etc. – is fascinating! But what I'd always loved most was the study of what they call 'lived religious experience.' What do people believe, why do they believe it, and how do those beliefs play out in their lives? This is what truly intrigues me. And I discovered that when you work as a chaplain, this is what you deal with everyday. 'Lived religious experience.' And it's so much more interesting than anything you can read in a book."
So after earning her Masters in Divinity, Kerry trained in Clinical Pastoral Education and became a hospice chaplain. And started listening to stories.
From the book jacket of On Living:
"Kerry Egan never offered sermons or prayers unless they were requested; in fact, she found, the dying rarely want to talk about God, at least not overtly. Rather than talk, she listened to their stories – stories of hope and regret, shame and pride, loyalty and betrayal and secrets held too long. Most of all, she listened as her patients talked about love – love for their children and partners and friends; love they didn't know how to offer or wished they'd received; love they gave unconditionally; love they, sometimes belatedly, learned to grant themselves. With each story, she was graced with the chance to witness firsthand what she calls the 'spiritual work of dying' – the work of finding or making meaning of one's life."
In her book, Kerry shares some of these stories, always with the permission of her patients and often at their request. The stories are sad, funny, poignant, uplifting, brutal, and mysterious. Occasionally, they brush up against the numinous, with butterflies and blackbirds and born-again visions. Kerry weaves in her own "big story," too ­– which is not without harrowing twists and turns – and she sets it all to sail on a river of buoyant prose. The book flies by in a few short sittings and you close it with a renewed sense of life's wonder and worth. I did, anyway.
Kerry's patients hail from assorted religious backgrounds, and sometimes no religious background at all. She never preaches or proselytizes – "That's not a chaplain's job," she tells me – but after all her years of fancy book learnin' and 'lived religious experience,' she still considers herself a Christian. "Christianity is still so fascinating to me," she says. "If you take it seriously – if you really take it seriously – there's nothing more enthralling than the story of Jesus Christ. The more you study, the more you learn, the more it just keeps unfolding."
We discuss the perils of being branded a "spiritual/religious writer" in the 21st Century. "I met Kathleen Norris once," Kerry says. (Norris is the author of The Cloister Walk, Amazing Grace, Acedia & Me, and many others.) "And, you know, she's just a mountain of writing talent. Just an incredible writer and poet. And she told me, 'The literary world is never going to take you seriously, because you write about spirituality. My poetry has gotten so many more accolades than my books, and I can tell you without a doubt, my books are better. But… you know, they're about spirituality. The literary world will never take you seriously. Just accept it and get over it now.'"
And has she accepted it? Does it bother her?
"Not really," Kerry tells me, "Except for one thing. Readership. I don't care if the literary world takes me seriously. But I care about people reading this book. I feel like I have a responsibility to the people who said I could tell their stories. They trusted me. They wanted their stories known. They didn't want their wisdom to go to waste."
On that front, Kerry need not worry. The stories are being read. People are buying this book. In fact, it sold out of its first printing before it even hit bookstores. That was back in late October. Right before the election.
"You really don't want your book coming out the week before Donald Trump becomes president," she laughs. "Can you imagine worse timing? It's a wonder we got any attention whatsoever."
And yet, On Living is doing well. Obviously, the NPR interview with Terry Gross didn't hurt – or the starred reviews, or the rapturous blurbs from superstars like Elizabeth Gilbert and Kathleen Norris – but Kerry has another theory about why people might be interested in her book, even now. Especially now.
"I think the country's in a spiritual crisis," she tells me. "Do you remember a time in your life – ever – when everybody talked about the president everyday? Every single day? It's not healthy. I know what a spiritual crisis looks like… and we're in one. I don't think you can say it's just the Democrats or just the Republicans, either. There are unhealthy emotions on both sides. It goes both ways."
I tell Kerry I agree – that, in fact, she's preaching to the choir – and then I ask her for some wisdom and guidance. She is, after all, a chaplain. An expert on spiritual crisis. Is there anything she's learned, in her years of working with families, that might be useful to this sprawling, raucous, deeply divided family we call the United States of America?
"I just think we need to do a lot of soul-searching," she replies. "And that means asking questions. The same kind of questions all families ask themselves, and each other, when they're in spiritual crisis: What is it we believe? Why do we believe it? How does that belief affect our lives and the lives of others? How do we know what we think we know? Who do we think we are, and who do we want to be?"
Asking the questions seems easy. Listening to the answers – really listening – is the part we're not so good at. Can we learn to hear and honor each other's stories? Kerry Egan's On Living shows us the way.
Kerry Egan will be in conversation with local writer Maggie Schein ('Lost Cantos of the Ouroboros Caves') on Saturday, April 8th from from 3:30 – 5 pm in the TCL Auditorium in Beaufort. She'll hold a writing workshop earlier that same day, from 1 – 2 pm at Grace Chapel AME Church. These events are part of the Pat Conroy Literary Center's Visiting Writers Series, sponsored by the Pulpwood Queens Book Club. For more information, visit www.patconroyliterarycenter.org
Kerry Egan is the author of On Living and Fumbling: A Tale of Love, Grief & Spiritual Renewal on the Camino de Santiago. She lives in Columbia, SC.

Margaret Evans is the editor of Lowcountry Weekly. (Read more of her Rants & Raves or visit her blog at www.memargaret.com)