The Beaufort Art Association presents "Today I am an Artist", a visual art show by artist Kimberly Dawn Bogan.
This exhibit will run from Monday, September 14, through Saturday, October 24, with an opening reception to Meet the Artist on Friday evening, September 18, from 5:00 – 8:00 PM.
Kim Bogan, a Port Royal native, grew up always creating, always shaping art in its many forms. As a young girl she worked with needle arts, and then tried her hand at photography, experimenting in color as well as black and white, and often developing her own photographs. After high school, she launched her first entrepreneurial enterprise – candle, soap, and lotion making – and identified her products as the work of "Carolina Lady", named after one of her father's shrimp boats. During this time she also wrote children's stories and created jewelry.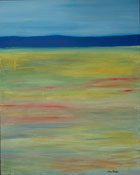 In 2006, Kim made a conscious decision to push herself to the next artistic level. But what did that mean? " I wasn't sure where my next step would lead, but I could definitely feel the change coming. Like tremors before an earthquake." At the end of that year, at a friends wedding, she met artist Charlotte Holmes Murray. Familiar with Ms. Murray's work and wanting to nurture her own growing need to move forward, she approached her respected new friend for advice. Ms. Murray said what a positive difference painting had made in her life. And, bonus! She taught painting to beginners and encouraged Kim to take her class. The next step had been made clear!

Kim's evolution as an artist has been remarkable, as all will see who come to enjoy this Exhibit. And although she initially was certain that the pure act of creating art and beauty with the stroke of a brush was beyond her abilities, nothing has proven so untrue. "For the first time in my life I lost time because I was so engrossed with painting. Every day I would say to myself "Today I Am an Artist" and then I lived that day to the best of my ability as an artist. Everyday I grew and became more and more a confident, producing, professional artist. I still wake up everyday and say the same thing, Today I Am an Artist."
Kim has served as the Beaufort Art Association's Vice President of the Gallery; and she was an inaugural resident artist at Art Works, the seat of the Arts Council of Beaufort County, where she had a studio. Kim's work includes oil, acrylic, and mixed media. Her originality shines through her varied works. From fun floral pieces to awesome abstracts, this show is not to be missed!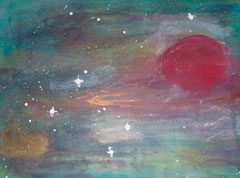 Beaufort Art Association's Gallery is in the historic Elliot House, 1001 Bay Street. Hours: Monday through Saturday 10am to 5pm. For more information please call 843-379-2222.