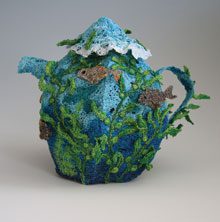 CraftHiltonHead2018, 6th National Juried Fine Art Craft Guild Exhibition, seeks 2D and 3D fine art craft entries that encompass exemplary creativity, experimentation, and imagination, showcasing what can be accomplished with few restrictions.
Up to 90 works will be chosen by several esteemed jurors based on artistic excellence, innovation, and originality. This is a juried gallery show in a community that loves art and buys art. Over $4,000 in cash prizes will be awarded by two nationally recognized judges. Deadline for applications is October 20, 2018. For more information and to enter, go to https://www.callforentry.org/festivals_unique_info.php?ID=5293.
The selection of the finalists will be made by two judges, each with exceptional artistic
experiences, Patricia Willcox and Linda Bloom. Patricia Willcox is an award-winning 3-dimensional multi-media craftsman, teacher, and entrepreneur. Her work as a costume designer for the past 40 years in movies and on the theater stage has greatly influenced her own fantasy figurative art in fiber and clay.
Linda Bloom's career has spanned over 30 years in the visual and performing arts. She has served as a working artist, public school art educator, cultural arts director, gallery director, art historian, museum curator, public art administrator, and arts center development director. She previously served as juror of CraftHiltonHead2012.
This exhibition will be free and open to the public from December 4 – 29, 2018 at Art League Gallery located inside Arts Center of Coastal Carolina on Hilton Head Island, SC. An opening reception and awards ceremony will take place on Wednesday, December 5, from 5-7pm. This exhibition will take place during the entire run of a professionally produced performance of An American in Paris on the stage of Arts Center of Coastal Carolina. Since the gallery is located inside the Arts Center, we expect to host an additional 100 to 200 theatre-goers each evening in addition to our regular visitors.
Art League of Hilton Head is a 501(c)(3) nonprofit organization built on a membership of talented artists, art students and arts supporters that work together to advance the mission to support and promote visual arts through exhibition, education, and partnerships.