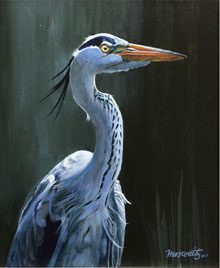 Stephen Moscowitz will exhibit "Birds and Other Stuff" from July 3-August 5th at the Society of Bluffton Artists (SoBA) gallery, located at 6 Church Street. Come meet the artist at the opening reception at 5 p.m. Friday, July 7th at the gallery. His exhibit will feature acrylic paintings of wild life, real life and still life.
Moscowitz is a lifelong artist who studied at the Rochester Institute of Technology, School of Art and Design. He earned wide recognition as an illustrator for several years until he moved on to creating fine art with wildlife. He derives inspiration from birds of the Lowcountry, as well as still life and landscape painting.

 
"When I moved to the Lowcountry, I discovered the world of birds," Stephen said. "Herons and egrets of all sizes and colors. In the Lowcountry, these birds are everywhere – even in my backyard. So, I have taken and borrowed photos of birds eating, swimming, wading and flying. Using photos as reference gives my birds proper stature and realistic features."
 
SoBA is the flourishing art hub in Bluffton'€™s historic District at the corner of Church and Calhoun streets. SoBA offers regular art classes, featured artist shows, exhibitions and more. Please visit www.sobagallery.comfor a complete calendar of events and other information or call 843-757-6586.