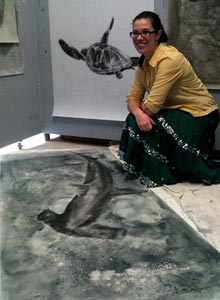 Is it "performance art"… or an art performance?
The Gallery in downtown Beaufort invites you to a weekend event that's sure to bring out your inner explorer. For three days and three nights, Michigan based artist Jessica Montgomery (left) will live and work on public display. Completely submerged in her work, she'll create art inspired by her experiences and explorations of the Lowcountry… and you're invited to watch.
Using mixed media techniques and materials such as charcoal, graphite, inks, and oils, Montgomery will create one of-a-kind pieces from the storefront window of The Gallery in Beaufort. This performance will take place Friday, July 8th through Sunday, July 10th and will be an all day and all night experience. Be sure to stop by, have a libation, and meet the artist. The Gallery is located at 802 Bay Street, Beaufort.