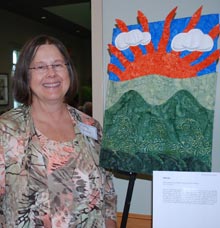 When Arnetta Devlin learned she had breast cancer five years ago, she set her mind to make the most of the experience.
"There's no point in wallowing in self-pity," said the 62-year-old Beaufort Middle School math teacher. "It's counterproductive. You have to take what's been given to you and go from there."
Devlin took her positive approach to cancer and created a work of art—a multi-layered quilt depicting a sunrise over stormy waters. The wall hanging, titled "Attitude", was chosen for the 2012 Lilly Oncology on Canvas traveling exhibition and book.
The biennial competition—started in 2004 by Lilly Oncology and the National Coalition for Cancer Survivorship—showcases works of art created by those who have been touched by cancer. Each piece is accompanied by a 125-word narrative describing the artist's vision.
"Every experience in life needs to be treated as an opportunity to learn and grow," Devlin wrote in her passage. "Cancer is no different."
The dreaded disease has been a part of Devlin's life since she was a teenager. At the age of 15, her father was diagnosed with cancer. Two years later, her grandmother died of the disease.
"Cancer happens to so many people," the Burton resident said. "It just happened to me."
When her doctor told her she had a tumor in her right breast, Devlin wasted no time getting treatment. Less than two weeks after learning the results of her biopsy, she had a lumpectomy, followed by several months of chemotherapy and radiation.
"I wanted to learn to live with it instead of sitting around and worrying about it," Devlin recalled. "The doctors and staff at Beaufort Memorial Hospital were wonderful. They saw me right away and developed a plan of treatment. I really appreciated that. I had friends who waited several weeks just to get the results of their biopsies".
Earlier this month, Devlin spoke at Beaufort Memorial's Third Annual Cancer Survivor's Celebration held at the Keyserling Cancer Center.
"I've always been one to look at the glass as half full," said Devlin, who is retiring this summer after 40 years of teaching. "That's the way to live."