A collection of artist Hank D. Herring's iconic cultural work entitled "Sankofa:  Go Back to Fetch It" will be featured at the Beaufort Art Association (BAA) from Feb. 24 through April 3. An opening reception will be held at the Gallery at 913 Bay Street in Beaufort on Friday, March 1, from 5 to 7:30 pm. Light refreshments will be served.  There will also be on exhibit the work of 65 other local artists, who are members of the Gallery. The public is invited.
      Born in Rose Hill, North Carolina, Herring expressed an interest in art from an early age, watching and being instructed by artistic family members and school art programs.  He completed his apprenticeship as a machinist before leaving high school and enlisting in the
Marine Corps, where he served for twenty years. As a machinist, he learned more creative ways to manipulate metals, plastic, glass and composite materials into art.  He furthered his knowledge of artistic skills from artisans and craftsmen in places where he was stationed or visited.  During his time in the military, Herring made a correlation between found objects and life lessons, expressing it in his art.  
     "This show features work that has evolved from many past explorations and experiences," he says. "It is not taboo to use your past to build on your future," he quotes as the literal meaning of Sankofa." 
     Herring's work will draw from his extensive background in creating with Adinkra symbols, visual symbols originally created by the Akan of Ghana and Gyaman of Cote d'Ivoire in West Africa.  Each symbol has a meaning and/or proverb based on life in the culture.  He uses these symbols on woodcuts, fabric, pottery, paintings, batik, screen prints and carvings.
     "I will also include new ideas using the Adinkra symbols and found objects, which I call "rescued materials" to create and form a diverse and eclectic body of art. That's the Sankofa concept," he says.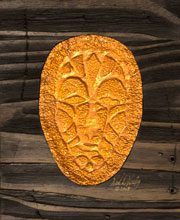 Herring's work has been featured in museums and galleries throughout the United States, Canada, Britain and Ireland.  He is currently the owner of the Green Herring Art and Framing Studio in Beaufort.  He has served as a teaching artist for the Kennedy Center's Teaching Artist Program and the Low Country Art Integration Project with the Beaufort County School District. 
     Chartered in 1957, the Beaufort Art Association (BAA) is a tax-exempt membership organization.  Currently, there are around 175 local artists who are members, 65 of whom exhibit in the Gallery.  To find out more, call (843) 521-4444, or go to the BAA website at www.beaufortartassociation.com.