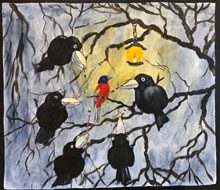 Lady's Island artist Billy Wilkie has been selected as the featured artist for the Third UpCycled Art Auction to benefit LowCountry Habitat For Humanity. Mr. Wilkie is known for his whimsical birds and Lowcountry scenes in acrylics and watercolors which can be seen locally at the Red Piano Too Galleryon Saint Helena Island.
The UpCycled Art Auction has been a successful event for LowCountry Habitat For Humanity starting in 2014 when the proceeds helped fund the 10thAnniversary ReStorehouse which was built on Ivy Lane in the Mossy Oaks Neighborhood. TheReStoreis a consistent source of funds for building affordable houses for families in northern Beaufort County.  The ReStore accepts and sells recycled donations of home furnishings, furniture, books, appliances, and various building supplies from the retail space at 612 Parris Island Gateway.
         As part of the UpCycled Art Auction, artists may select an item from the ReStore to re-purpose, embellish, or re-imagine for the auction at the event on Saturday, April 6, 2019. Historic Penn Center will host this event which will include live and silent auctions of art, musical entertainment, a Lowcountry boil with all the fixings provided by Boondocks Restaurant  and appearances by many local artists. Tickets are $35 and are available by calling the LowCountry Habitat For Humanityoffice at 843-522-3500.
Meet The Artist: Billy Wilkie
Did you know what you wanted to be in the 6thgrade? Billy Wilkie didn't but his art teacher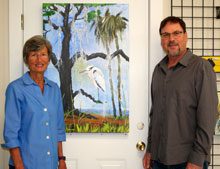 might have seen the future when she recognized his talent and shared that information with Billy's parents. An art career was not an immediate goal but Billy began using watercolors as a medium to "calm his mind."
         Starting with painting copies of Audubon birds, Billy (seen here with event chair Barbara Krakheyl) fell in love with the way he felt when painting. A friend saw his work, framed a piece and even recommended him to a New York friend building a Lowcountry house.  That lead to a commission and the self-taught artist was on his way. Billy sought out critiques and some formal instruction from Zoltan Szabowho had a lasting influence on his art.
         A transition from watercolors to acrylics began as Billy experimented with some recycled materials and presenting his paintings without frames and glass.  Many of his works are now on wood or canvas.
Billy Wilkie enjoys helping other artists and especially children. He encourages others and shares information about the business of art.  His works are sold in galleries in the Lowcountry as well as on Cape Cod.
         When asked for the name of an artist, past or present, he would like to meet, Billy did not hesitate to answer Lars Jonssona master wildlife artist who works en plein aire in watercolor and acrylic.
About LowCountry Habitat for Humanity
LowCountry Habitat for Humanity has built 50 homes since its inception in 1990, including houses in the City of Beaufort, Port Royal, St. Helena, and Yemassee. The end result of these has been the provision of safe, affordable housing for over 63 adults and 128 children. Want to learn more about this event or how you can help LowCountry Habitat build a better Beaufort? Call our office at 843-522-3500 or visit us online at www.lowcountryhabitat.org.