Portrait of the Artist in the New Economy
Story and Photos by Mark Shaffer
Artist and owner of The Gallery in historic Beaufort, Deanna Bowdish, refers to her life and work as "the frenzy of me." She stops moving long enough for a kinetic conversation about the future of the local art scene, ancestral epiphanies and why her current project could become a model for art-based entrepreneurs in the Lowcountry.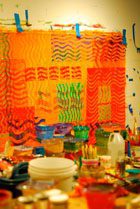 For the past several weeks I've watched Deanna Bowdish create a dining room table out of paper, paint and liquid in what must surely qualify as artistic alchemy. Today the nearly finished pieces are propped against the back wall of the gallery: two towering panels of color and texture so intense that everyone who walks through the front door is inextricably pulled right to them to stare up and wonder as if they were loosely hung doors to some parallel fantasy world.
Elvis rocks the sound system. "It's Now or Never" slides me into a Bossa Nova groove as I wind among the eclectic works of artists spanning various disciplines, each occupying a unique niche in this space. Most days you're likely to catch a rockabilly groove. Deanna's a big Stray Cats fan. That's the vibe here – a little edgy and hip, cool and vibrant with a dash of retro punk hipster tossed in for spice. This is not your mother's art gallery. It's not about pastoral seascapes and indigenous local culture – although you can certainly find that here, as well. This is a space dedicated to "art for art's sake" and the owner is nothing if not dedicated. For Deanna Bowdish art is a passion, a lifestyle, a business and a cause. At just 33 years of age she's already fulfilled her life's dream, which begs the question: so as long as she's ahead of schedule what the hell's wrong with moving on to the next one?

Part 1: Tattoos and karma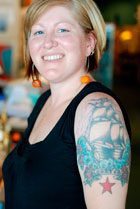 Mark Shaffer: Those of us not originally from here have a story about how we got here, what's yours?
Deanna Bowdish: I moved here October, 2002 and arrived in my sister's driveway wearing a wool sweater and jeans with the temperatures still in the mid 80's. I thought I was going to die. I moved to Beaufort on very little notice from Minneapolis to help my sister who was stationed here with the Marine Corps. She was pulled from her squadron (did weapons and navigation in the backseat of an F-18) to be sent overseas. I moved here for what I thought would be a year and a half – max – to house, dog and cat sit.
MS: You'd been in Minneapolis, a big mid-western city with a bustling art scene. What was the transition like?
DB: I was a fish out of water. I'd never lived in the South, never lived in a small town and never lived in a military town. I hated it here initially and cried more than I ever have in my life. I was miserable, but it didn't snow here so that was a plus. But I couldn't get a job to save my life. And to make things worse…I had tattoos.
Back in Minneapolis, Deanna was just another face in the crowd – part of a black-clad legion of musicians and artists all sporting fresh ink and attitude. Adding a little color to your look meant dying your hair a different shade of purple. This didn't help open any doors in the clique-ish Lowcountry art scene. Even with years of custom framing experience, she found jobs difficult to come by and later found out that a glimpse of a tattoo she tried to cover up for a job interview had earned her the nickname "Motorcycle Chick" in certain circles. Ironically, this couldn't be farther from the truth.
Deanna Bowdish has an elaborate tattoo of a tall, 18th century sailing ship on her left arm. Inscribed beneath the waves bearing the vessel is the legend "Carry On," a testament to her perseverance, her heritage and an undiscovered link to the Lowcountry. Her ancestor, Nathaniel Bowditch (1773-1838), a self-taught mathematician, astronomer and sea captain, is considered the father of modern maritime navigation. His landmark 1802 work New American Practical Navigator is still carried aboard every American naval vessel. "Carry On" refers to a well-known children's book about his remarkable childhood, called Carry On, Mr. Bowditch. That nautical heritage runs in the blood. Deanna grew up in Cleveland racing sailboats all over the Great Lakes, even winning some national titles in her teens and continuing to compete into her early twenties. It was practically kismet that she should end up in a place with a rich maritime history. The recent revelation that Nathaniel's son, Henry J. Bowditch, was among the founders of the Penn Center completes an eerie circle between the Bowdish family and Beaufort that feels a lot like destiny.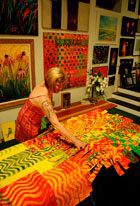 MS: That's amazing.
DB: I know. So, I have this deep-rooted connection here, not even realizing it until six years after I got here.
MS: It seems a little mystic, karmic maybe.
DB: That's how I feel about everything here. As much as I hated it when I first got here, I could not imagine my life any differently and wouldn't trade it for the world. I've got everything I've ever dreamed of. The average art dealer is sixty. I was twenty-eight when I bought The Gallery.
Part 2: The Balancing Act
MS: Owning a gallery was always part of The Plan?
DB: Yes. But I figured I'd spend twenty or thirty years in some major city working my way up to that. The dream was offered – I just fell into it and I kind of freaked out. It meant I'd have to stay [in Beaufort]. Then I realized the power of a big fish in a little pond.
MS: What was your philosophy going into the business end and how was it different?
DB: My goal has been to create a space that is invigorating, exciting and fun. So often the gallery world is sterile, almost hostile. My belief is that everyone can own original art. Most of my time is spent educating the viewer about the art and the artist.
If I had a dollar for every time someone called this is one of the most amazing galleries they've been in, I could almost stop selling art. (Laughing) Not that I'd ever do that!
MS: As a dealer, how do you select the work?
DB: First and foremost, art is very visual and very personal. So, I have to ask myself if it's something exciting, something different and unique? Is it something that can really sell or is it something that I feel is important for people to see? When people walk in it's going to be exciting and welcoming, there's a ton of inspiration and visuals. They're going to see things they're very comfortable with, and they're going to see something that will make them go "Wow! I've never seen that before." And it's all going to be in one environment.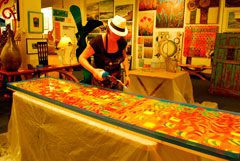 MS: Avoiding the status quo?
DB: Right. But the other goal is for people to realize that anyone can afford original artwork. Not all artwork has to cost you an arm and a leg. You can find original works in The Gallery from seven dollars up to fifteen thousand – all original, all handmade, all one-of-a-kind.
MS: How do you balance being both artist and business owner and do the two sides ever conflict when it comes to your own art?
DB: That is the hardest part of my job: trying to find the balance, but I believe that if you want something bad enough, you figure out how to make that happen. I am very lucky that I get to do what I love and that I love what I do (thanks Dad for instilling that during my childhood). Often, I would rather create than do the business side of my job, but I need both to succeed. I am very lucky to have both a business brain and a creative brain – very uncommon in an artist. I guess I try to find that happy balance between both sides, which is fitting because that's what I am always striving for in my art: the balance between order and chaos.
MS: Which is the perfect segue to your roll as an activist for the arts. You've been extremely active in the Arts Council of Beaufort County, serving as Board President in one of the most extraordinary times in its history
DB: I am truly amazed at the accomplishments of the ACBC. We are so fortunate to have an amazing pair to lead the charge – Jenny & J.W. Rone – none of this would be possible without their knowledge, expertise and dedication to the arts and our community. It also says a lot about our community; we could not do what we do without their support, and interest in the arts. I eat, sleep and breathe the arts, I could not think of a better way to spend my time. I feel like fate/destiny brought me here for a reason and that reason is art.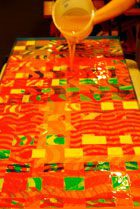 Part 3: Conveying the frenzy
MS: As an artist what was your initial attraction to the Lowcountry and how did it impact your work?
DB: I was certainly not used to all the sunshine and intensity of color that exists here. It is a very magical and inspiring place, but as an abstract artist how does one convey that? So it was through the vibrancy of color that I was able to take in the Lowcountry as inspiration. I also began a series depicting shrimp and jellyfish and shells; I wanted to create work that was indicative of the Lowcountry yet remain true to my love of process and unconventional materials.
MS: That intensity certainly describes the new stuff. How would you describe or categorize your work as an artist?
DB: "Visual crack." No, I'm just kidding. Overall, I'm a process-based artist. It's all about the materials and the tools that I use, not about a desired outcome – the end result is just the cherry on the sundae. I'm also an intuitive artist, I don't start with a preconceived notion of what I want the end result to be, it's the journey [to get that result] that I enjoy. I would also say that most of my pieces are very much self-portraits: they are a direct result of my life and experience; I'm just conveying the frenzy of what it is to be me through color, pattern and line. I'm a girl going in twelve different directions, and I wouldn't have it any other way. I've got things coming from all angles beatin' me up, so this Ripple Series (her current project) is like taking in that information, putting it down, then cutting it up and weaving it all back together in a way that I can begin to understand the information.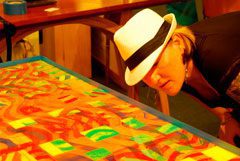 Part 4: The Ripple Series
MS: This process involves creating something, destroying it and then creating something entirely different from that destruction. You can go in a lot of different directions with that.
DB: Well the "ripple" plays off the idea of waves. Information travels in waves: light, sound, movement, water – waves.
Indeed, the concept was born of water. A potential client wanted something with a "water" theme, but eventually felt Deanna's abstract work was too "hard edged." The job fell through but an idea took root and, as she says, "cooked in the brain" until the approach to the process was fully formed. Here's the basic idea according to the artist, a recipe for the recent commission documented on these pages: stretch an eight to ten foot piece of watercolor paper, paint the whole piece, then cut it into strips and weave the strips together. Mount the woven piece onto a substrate and pour clear industrial resin over it, spread it evenly, then quickly and carefully work out the tiny pockets of bubbles with a blowtorch. Allow this to dry, then repeat the process two or three more times. Seems pretty simple, right? This particular project – a two-piece dining room table that will hang when not in use – took five weeks and about a hundred hours to complete. The results are stunning – two eight foot long panels, vivid astonishments in color, texture and depth that simply demand attention. The combination of these elements creates a hypnotic fluidity that does indeed conjure ripples and waves. To call these pieces "eye-openers" is like calling a Ferrari "a car" – it's just not enough.
There also never seems to be time enough to balance the work with the, well, work. To get the initial series started Deanna sequestered herself in the studio for a solid week while her Dad stepped in to run The Gallery, something for which she will always be grateful. "Mom and Dad have been wonderful throughout all of this," she says, "and I would not be where I am without them."
As it turns out The Ripple Series turned out to have a "ripple effect." While the original pieces were meant for the wall, Deanna realized she could take the concept to another level as functional art. The resin was designed for use on hard, durable surfaces like kitchen countertops and backsplashes. She applied the concept to an old coffee table with leftover bits and pieces from the other work and set it out on display. "It stole the show," she says, serving as kind of a conceptual model for the process. It hasn't sold, but what it continues to do is sell the idea of what's possible, even in a tough economy.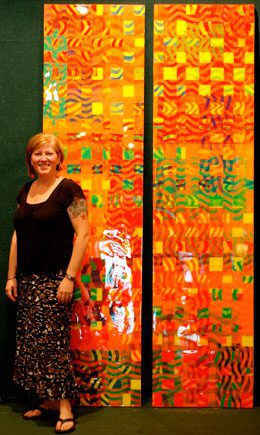 MS: This is where Art meets Business.
DB: People are still building homes, remodeling homes and they have budgets. They've budgeted for that countertop, they've budgeted for that dining room table. I'm allowing them to incorporate original, one-of-a-kind artwork into the budget that already exists. It's all about being crafty with your money.
MS: It's also about being crafty as both an artist and a businessperson, about "how can I sell this?" and building that into the equation with real value attached.
DB: Exactly. Within the creative workforce [artists] are the luckiest people because we can constantly adapt and change what we're doing. Someone commented recently that she couldn't wait to see where I am with this series in another year or so and see how it's going to change. I can look back over the [first] pieces and laugh because I feel they're a little sophomoric, in a way.
MS: I can see a huge difference in the most recent stuff. There's obviously a progression.
DB: As an artist I'm constantly pushing myself. What is next? What is next? I never want to be one of those artists – and there are many – who've been producing the same painting for years. I have to keep pushing the boundaries.
MS: There's a learning curve with every new medium, you've discovered the practical applications, so where is it headed?
DB: I'd love to get into some commercial settings, do some large-scale pieces. I'm actually going to be doing a new program through [the Technical College of the Lowcountry] – the Fast Track Program – to market this technique and process and create a whole business plan around this. It's specifically geared to the artist and the creative entrepreneur. My dream is to get this aspect going and then maybe it will get to the point that I have apprentices working under me. I'm creating the big paintings and the big panels, but they're doing some of the fabrication, the mounting, pouring the resin. What could be better?
In the meantime she's caught in a happy dilemma, squeezed between the daily demands of a successful business and the time needed to be creatively productive as a means to grow that business. Given what she's accomplished so far, the result is likely to be remarkable. Carry on, Ms. Bowdish, carry on.
The Gallery is located at 802 Bay Street in Beaufort, SC (Phone 843-470-994) or on the web at www.thegallery-beaufort.com .