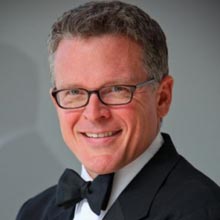 Even when John Morris Russell speaks to a small group, there is an energy level that cannot be denied. The newly named music director and principal conductor of the Hilton Head Symphony Orchestra simply can't seem to help himself as he waves his arms and gestures into the air, with expressions of passion and joy, as if he were on stage conducting a Joseph Haydn symphony.
"Hilton Head and the Lowcountry is a very special and unique place blessed with extraordinary beauty and great musicians," Russell exclaimed at last week's press conference announcing his new role.
"This orchestra will continue to gain broad acclaim," he affirmed. "But we will do it while focusing first on engaging our family of local listeners – the local citizens who make our music worthwhile."
Russell, who has been the Hilton Head Symphony Orchestra's principal guest conductor for the recently concluded 2011-2012 season, also serves as conductor of the world-renowned Cincinnati Pops Orchestra in Ohio. (It is common for the top conductors in America to have more than one community that they serve along with making guest appearances with other orchestras.)
Indeed, as a guest conductor, Russell has worked with many of North America's most distinguished ensembles, including the orchestras of Toronto, Detroit, Houston, Indianapolis, Dallas, Louisville, Miami's New World Symphony, the Minnesota Orchestra, Oregon Symphony, Colorado Symphony, New Jersey Symphony, New York Pops, New York City Ballet, New York Philharmonic, the Los Angeles Philharmonic at the Hollywood Bowl, and the Cleveland Orchestra at the Blossom Music Festival.
Mary Briggs, president and CEO of the Hilton Head Symphony Orchestra, said symphony orchestra board members knew they had found their new maestro as they watched him guest conduct the local musicians and noticed their appreciation of him, as well as the audiences' recognition of a world-class symphony conductor in their midst.
"We knew almost instantly that we were on the cusp of an exciting new journey, and that John will catapult us into a new vision for the arts, culture and music here in the Lowcountry," Briggs said. "When John speaks to people, it takes only a few minutes for them to catch the passion and excitement he has for music. I cannot think of a better person to lead us."
Hilton Head Island Mayor Drew McLaughlin, who attended the announcement press conference, said he is confident Russell will greatly contribute to the "arts and music and have the transformational power to change lives" throughout Beaufort County and the Lowcountry. "He will bring much favorable attention to our community."
Russell pledged to bring classical music into classrooms, businesses, churches and neighborhoods. "We all make music together," he said. "I won't just pop in to a school and grab a baton. I will be supporting, working with and helping schools, teachers and the kids embrace their love of music."
Considered one of North America's foremost leaders in orchestral educational programming, Russell conducted from 1997 to 2009 the "LinkUP!" educational concert series at Carnegie Hall made famous by Leonard Bernstein.