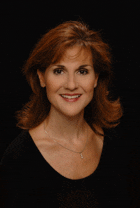 When Southern novelist Karen White returns to the USCB Lunch With Author series on February 25 at the Sea Trawler Restaurant, Bluffton, she will be celebrating her tenth anniversary as a published author.  Among the Kudos for this gifted, prolific writer is that all eleven books published during this career have won noteworthy national book awards.  Book 11, The Girl on Legare Street made the NY Times bestseller list the first week of publication.
The Girl on Legare Street is book two of four of the Charleston-set Tradd Street series which began with The House on Tradd Street called an "intricate tapestry of history, loss, and redemption" by Southern Living magazine and "a page-turner featuring historical spirits and sleuths whose antics cause the reader many a chuckle."
In The Girl On Legare Street, Karen embraces Charleston's mystical lore, its history, its architecture, its ambiance, and its ghosts as she revisits Melanie and Jack, the protagonists of the series.  Karen places the heart of her latest plot in a 1755 Georgian double house, where a long dead Hessian soldier has yet to find rest and another, malevolent spirit is determined to destroy Melanie. Not surprisingly, Legare Street already has its own ghosts… 31 Legare, built around 1790 by Mrs. William Heyward is home to the ghost of her son, who was killed while hunting but appeared within the hour to his sister in the library.  It is said that over at 23 Legare, built in 1838 by Dr. Robert Trail Chisolm, there is a ghost who appears only to the Chisolm family.  Karen notes that she didn't choose the street for its spirits, saying, "For Legare, I picked a street near Tradd. It never crossed my mind that there would be a street without ghost legends in Charleston. Even if I blindly lowered my finger onto a map, I was bound to land on a haunted thoroughfare in the Holy City."
Italian and French by ancestry, a southerner and a storyteller by birth, Karen White has made her home in many different places. Born in Tulsa, Oklahoma, she has also lived in Texas, New Jersey, Louisiana, Georgia, Venezuela and England, where she attended the American School in London. She returned to the states for college and graduated from New Orleans' Tulane University. Hailing from a family with roots firmly set in Mississippi (the Delta and Biloxi), Karen notes that "searching for home brings me to the south again and again."
Karen credits her maternal grandmother Grace Bianca, to whom she dedicated The Lost Hours, with inspiring and teaching her through stories shared over many years. Karen also notes the amount of time she spent listening as adults visited in her grandmother's Mississippi kitchen, telling stories and gossiping while she played under the table. She believes that started her on the road to telling her own tales. The deal was sealed in the seventh grade when she skipped school and read Gone With The Wind. She knew—just knew—she was destined to grow up to be either Scarlet O'Hara or a writer.
Karen White's appearance at the USCB Lunch With Author series follows book reviews and interviews from every major magazine, talk show and newspaper in the southeast.  She will talk about her books and writing skills, lead a Q & A period and sign books at the luncheon which starts at noon. The lunch is at the Sea Trawler restaurant, Bluffton.  Reservations are necessary and can be made at kingsley@uscb.edu or calling 843-521-4147.  The all-inclusive price is $42.