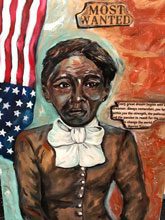 God's time is always near. He set the North Star in the heavens; 
He gave me the strength in my limbs; He meant I should be free.
      – Harriet Tubman to Ednah Dow Cheney, New York City, circa 1859
            When Harrier Tubman died in 1913, she told the people in the room with her, "I go to prepare a place for you." At this very moment in time, Beaufort is hard at work preparing a special place on Craven Street to remember and honor an American treasure.
            November 1, All Saints Day, was a warm Friday afternoon in Beaufort. I was on a half-hour break from an all-day South Carolina Writers Association (SCWA) workshop taking place at the Old Bay Marketplace. This year, the Pat Conroy Literary Center and SCWA joined forces to host extraordinary events for readers, writers, and everyone in-between. The icing on the literary cake was the Friends of the Library conducting their annual book sale beside the Beaufort River. Shakespeare would have been proud of Beaufort's attention to the written word.
            In one of five writing workshops, Megan Mayhew Bergman, a notable writer and insightful teacher, encouraged ten of us to "go outside and into the world" for inspiration. I knew exactly where I wanted to spend my half-hour of writerly meditation — in the churchyard of the Tabernacle Baptist Church on Craven Street. 
            Timing is everything. An unlikely encounter took place between Reverend Kenneth Hodges and me in the quiet of the churchyard. As he approached from the church parking lot, I said hello and asked if it was okay to be sitting there. "Of course," was the reply of a busy man moving between the church he pastors and his historical gallery on Charles Street.
            I explained that I was on break from a writing conference. The history of the church and the inviting sunshine led me to the peaceful place to reflect and capture thoughts drifting between me and the bust of Robert Smalls, the centerpiece of the churchyard cemetery. Reverend Hodges told me I was missing the opportunity to consider Harriet Tubman, another significant player in Beaufort's history. "The movie 'Harriet' opens today," he said. "We're building a monument over there to recognize her."
            I was vaguely aware of the efforts to build a Tubman monument on Craven Street, and I knew a movie was due to open. I was also aware of the bridge spanning the Combahee River, part of Highway 17, renamed for Tubman in 2008. I knew Harriet Tubman was a leader of the Underground Railroad during the Civil War. This was the entire summary of my knowledge: movie, monument-in-progress, bridge, and the nebulous Underground Railroad heroine.
            I made a date with Rev. Hodges to meet on Monday to learn more — more about Harriet, more about the efforts to erect a monument, and more about the relationship between Tubman and Beaufort. Before our appointment, I would head down to Bluffton's Cinemark theaters and see the movie. 
            Harriet's identity is imbued with the belief in every human being's right to freedom. She survived a perilous journey to her personal freedom, she risked her life time and time again as a "conductor" of the Underground Railroad, and she was a leader in the Combahee River Raid that resulted in the freeing of approximately 750 slaves.
            History, story and legend portray Harriet as a woman woven by fibers of courage, tenacity, and faith. In the movie, there are several scenes of Harriet falling to her knees in a kind of out of body experience. She is either guided by spiritual premonitions, or has episodes of epileptic foresight leading her safely north. I lean on the former as a key explanation for her improbable success. Wrenching her family from an enslaved future was foremost in her heart, and her work to free others was a calling. There was something big and deep working inside of Harriet. Maybe it was her vocation, maybe it was fear turned to daring, or maybe it was God. 
            There is so much history in the river bluffs and sandy soil of Beaufort. It is a painful, beautiful history; one we continue to discern with the establishment of the USCB Institute for the Study of the Reconstruction Era, and as the newly recognized site of the Reconstruction Era National Historical Park.
            Documentation from our National Archives provides evidence that Harriet Tubman walked our streets in 1863. By then she had moved from her work as the "Moses of her people" to scout, spy, and nurse in the Civil War. Reverend Hodges and the Beaufort community are working to finalize funding to recognize Harriet Tubman and the values she embodied on our national road to equality and freedom. It is our story to tell. I was just blessed to meet a man when I sat down by a churchyard in the place that I now call home.
            Please visit harriettubmanmonument.com before November 20 and donate at least $20 to the on-going 20-Day Fundraising Campaign to help erect this important monument in our community. Thank you.
Vivian Bikulege shares her life with Mac & Trooper. Along with writing, her passions include faith, family, friends and the natural world. She holds an MFA from Queens University of Charlotte and has been a contributing writer to Lowcountry Weekly for fifteen years.
The painting of Harriet Tubman above, by Charlein Lisa Gilyard Rivers, can be seen at LyBenson's Gallery in downtown Beaufort.