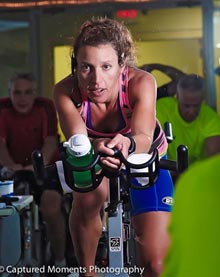 The Wardle Family YMCA of Beaufort County, located at 1801 Richmond Ave., in Port Royal will host its 5th annual Exercise-a-thon Saturday, August 29, 2015 from 8 am to 12 pm. This unprecedented 4-hour event invites everyone to participate in aerobic exercises including kickboxing, power circuit, spinning, Tabata, yoga, water aerobics and more. The cost is $10 per person to participate; however, donations beyond $10 are more than welcome. Non YMCA members are encouraged to participate and will receive a complimentary Y day pass as an added thank you!
Due to limited space in our spinning room, Y members, guests and community participants are asked to reserve their spin bike in advance by either visiting the YMCA front desk or by calling the Y at 843-522-9622. All other participants can register and pledge the morning of the event at the Y.
The event goal is $3,000. All money raised will benefit the annual 2015 Scholarship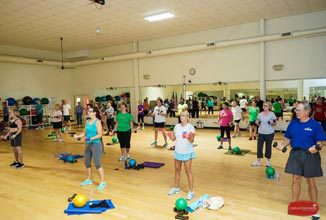 Campaign which funds financial assistance for local individuals and families in need.
"Yes, one of our event's goals is to raise funds, but we also want to get people moving,   said Denice Davis, YMCA Wellness Director. "Exercising doesn't have to be a drudge! People tend to look in a gym and think everyone is so thin and fit and are sometimes reluctant to get involved, but at the Y we have adapted and changed for our members who have different body types and abilities – people with back or knee issues, for instance."
Exercise-a-thon participants can join in all exercise classes (or just one!) and make a donation amount of their choice. In addition, refreshment, nutrition coaching and calorie burning information will be provided. All participants will be entered to win great door prizes!
"We're aiming to make this a really fun event for our members and anyone who wants to experience something different outside their usual exercise routine. Trying out a class like kickboxing, yoga or water aerobics could be just the impetuous to revitalize a person's motivation and get them back on track," Davis adds.
The YMCA of Beaufort County is part of a 171 year-old worldwide organization that enables the citizens of Beaufort County to develop values and behaviors that are consistent with our mission: To put Christian principles into practice through programs that build healthy spirit, mind and body for all. The Wardle Family YMCA of Beaufort County was charted in 1990 and opened its doors in June 1996. The YMCA is a locally autonomous organization made up of voluntary membership that is open to individuals of all ages, race, religion, incomes and abilities. Programs and services incorporate the values of caring, honesty, respect and responsibility and the YMCA encourages and challenges its staff, members, volunteers and program participants to accept and demonstrate these values. The YMCA of Beaufort County currently serves approximately 8,000 individuals through the programs and services provided. For more information, visit www.ymcabeaufortcounty.com