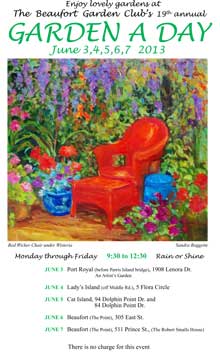 Homeowners are busily preparing for the visitors to the 2013 'Garden a Day' sponsored by The Beaufort Garden Club. This is the annual Garden a Day event first envisioned by club member Marion Leach 19 years ago. Marion, now 90, still attends every garden, every year.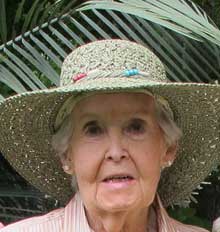 Marion recalls that her impetus to create Garden a Day was "just a way to recognize National Garden Week." She never dreamed that the tour would evolve into an attraction that draws almost 2,000 people.
These lovely gardens are rarely, if ever, opened to the public. They were created as places for the homeowners and their guests to enjoy. Some are reminiscent of the formal gardens of England, with care and attention to every detail; others are reflections of the homeowner's enjoyment of selecting, planting, and caring for their gardens. All have met the challenges of gardening in this unique climate.
Each garden provides visitors with ideas and inspiration for their own gardens. These are private gardens so plants are not labeled, but docents from the Lowcountry Master Gardeners Association will be found throughout the properties to answer questions. Look for the green aprons.
The Beaufort Garden Club begins preparing for each year's event as soon as the last one is over. Gardens must be visited for selection and committees formed to cover every aspect of the tours. The 29 garden club members are assigned to be hostesses, to greet visitors, to bake the signature ginger cookies served along with iced peach tea and cold water, to place and collect directional signs and balloons for each garden, and to handle the myriad other tasks necessary to make this an enjoyable experience for everyone attending. There is no admission charge for the event since Marion wanted the tours to be gift to the people of Beaufort County.
Garden-a-Day 2013 Schedule
JUNE 3: Port Royal (before Parris Island bridge), 1908 Lenora Dr.
An Artist's Garden
JUNE 4: Lady's Island (off Middle Rd.), 5 Flora Circle
JUNE 5: Cat Island, 94 Dolphin Point Dr. and
84 Dolphin Point Dr.
JUNE 6: Beaufort (The Point), 305 East St.
JUNE 7: Beaufort (The Point), 511 Prince St., (The Robert Smalls House)
The gardens are open from 9:30 am – 12:30 pm. There is no charge for this event