The 2nd Annual High on the Hog BBQ Festival celebrates a long legacy of barbequing in Beaufort County.  By Jim Gibson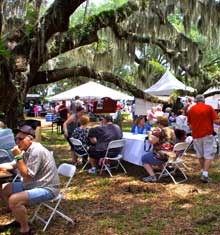 Beaufort recently celebrated its 300th anniversary, and now the LowCountry Habitat for Humanity, with their 2nd annual High on the Hog BBQ Festival, presented by CBC National Bank on June 7th and 8th, will be celebrating 447 years of barbequing in Beaufort County.
The fact that barbeque originated in Beaufort has almost been completely overlooked. When the Spanish arrived in 1566 and introduced the pig into North America, they found the Native Americans cooking deer over wood coals and there was a made-in-heaven culinary match up.
It wasn't long after the first pig hit the coals that the Spanish soldiers began spending so much time cooking barbeque that it was affecting good order and discipline. The Spanish Commandant became seriously concerned and a directive was issued stopping the cooking of barbeque
In protest, several soldiers deserted and took their pigs and went to North Carolina which is how barbeque was introduced there. Some others also deserted and went to Texas, but their pigs died before they got there so they had to cook their cows and created the mistaken belief that beef was barbeque.
The Spanish officers directed the attention of their men to shrimping which was much less time
consuming and had the advantage of no one ever being gored by a shrimp. Many years later when Frogmore stew was created, the subliminal influence of the Spanish pigs was still here and that is the reason sausage is included in the recipe.
The High on the Hog BBQ Festival is a certified competitive cooking event of the South Carolina Barbeque Association that will be overseen by SCBA members Quinton and Barbara Tedder of Beaufort who will act as marshals.
The Festival will begin Friday evening with an "Everything Low Country Night" where the team will prepare their favorite low country recipes while the crowd enjoys live music, a silent auction and a Moonshine Tasting by Firefly Distillery.
Saturday is the main event where certified judges will judge the Boston butts and ribs that have been cooking all night and select the winners. Immediately following the judging the butts and ribs will be available for tasting.
Kid's activities will be ongoing through the day. In addition local restaurants will be selling seafood, hot dogs, ice cream, funnel cakes and much more.
High on the Hog 2013 will take place at beautiful Whitehall Plantation on Lady's Island. Friday is "Everything Lowcountry" from 6 – 9 pm. Saturday is the BBQ and Ribs Competition, from noon – 4 pm. Tickets are $16 for Friday and $18 for Saturday, and are available on line at highonthehogbeaufort.com, the Visitors Center on Craven Street, The Century Links store on Boundary Street, local CBC National Bank offices and at the Habitat office on Parris Island Gateway.