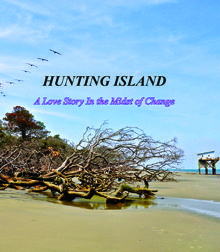 Book Review by Margaret Evans
"We started coming to Hunting Island in the early
1980s. Our first year, we arrived after dark and had to unlock the front gate with headlights as our only illumination. It was eerie driving through the Palmetto forest in the pitch dark that first night. It felt as if we had entered a pre-historic time. We quickly learned to keep the cabin light on if we went out, but mostly we settled in after dark.
"I generally rise with the sun. That very first morning Hunting Island filled my soul and marked it forever; and the Island continues to renew me even today. If we allow it, every life story is one of beauty, tranquility, and loss, and the ever-renewing cycle of life…"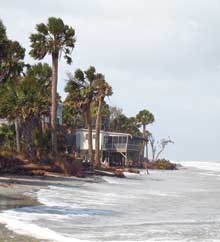 Thus begins "Hunting Island: A Love Story in the Midst of Change," a little book of pictures and prose that chronicles, from a very personal perspective, the "life story" of Hunting Island over the past 30-ish years. The author/photographer Jerry Vreeland – described on his business card as "a maker of small photographic books" – left a copy of "Hunting Island" at our office last week, and I promptly fell in love with it. The book is, indeed, small and full of beautiful photographs. But it was the story, itself – and the way it is told – that kept me turning the pages of "Hunting Island," almost against my will. Jeff stuck the book in my hand when I was rushing around doing… something? (I forget.) I meant only to flip through it briefly, as a courtesy, then add it to my "stack" – the place where things go to languish indefinitely.
Instead, I made the mistake of reading the first page. And the second. And the third… Whatever it was I'd been rushing around doing? Forgotten.
The book is a quiet but powerful enchantment. It feels very personal, like a diary – or a private tour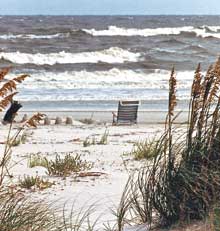 of one man's soul, complete with illustrated memories. We first read about the Vreelands' beloved annual retreat, Hubbard cabin – "we had our very own outdoor shower, which was almost decadent" – at a time when there were more than 40 cabins on Hunting Island.
"I like to think of our time in the Hubbard cabin as the 'golden years,' when time was measured by the shrimp boat's crawl, the ebb and flow of tides, a walker's pace on the beach, and the endurance of our sand dunes anchored by sea oats. It would not last, as nothing does, but the illusion of those years did have a timeless quality about it that I do not begrudge my memory for keeping alive."
Vreeland writes about their "pet" deer Jolene, who had dibs on all their table scraps, and about a dress he bought for his wife, Emily, inspired by his romantic notions of Lowcountry history.
"One year, I insisted on buying her a dress that captured my sense of Charleston and Beaufort in the 1800s and her, the heroine. She agreed to wear it for a few brief hours while I happily shot a role of film. But only that once; she insists it is not where we met in our previous life."
The reader is treated to one of those long-ago pictures of lovely Emily in white eyelet.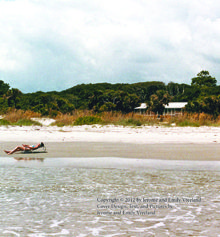 Vreeland also introduces us to "root souls." These gnarly characters, who haunt the book both in word and image, are described as "souls that live in tree roots and are disgruntled at being uprooted." The root souls serve as something like a Greek chorus in this story, their twisted visages recurring throughout, offering a silent – sometimes sorrowful – commentary on the action at hand.
By the early 1990s, erosion had destroyed several of the Hunting Island cabins – "the beach began to use some of their remnants to create a particular kind of art" – and was getting "deathly close" to Hubbard cabin. Vreeland shows us pictures of the damage… and hints of impending doom. In 1995, Ms. Hubbard (of Hubbard cabin) passed away, and a storm washed her cabin out to sea that same year. Vreeland writes, "The romantic in me found it fitting that the cabin 'went down to the sea' with the woman who built it."
After visiting other vacation spots for several summers, the Vreelands eventually returned to Hunting
Island. "But first," Vreeland writes, "I think we had to fully grieve our sense of loss." They ended up at Curry cabin – "The Indomitable Lady," Vreeland calls it – from which they witnessed many beach refurbishment efforts, both large and small. Ultimately, most of these efforts were in vain. The erosion was unstoppable; the beach was disappearing, and one by one, the Hunting Island cabins were disappearing with it.
Vreeland's photographs from this time speak volumes, and he writes of it with equal eloquence. "While the cabin debris was willing to reinvent itself as objects of art, if only for a little while, the mighty upsurge of root souls could not be appeased. It felt as if they were truly howling the anguish of everyone who witnessed this loss close up."
2011 marked the Vreelands' last stay at Hunting Island, and Jerry writes about that visit with bittersweet poignancy. Today, they are occasional day visitors to the island – they hail from Knoxville, TN but have friends in the area – and Jerry muses on the possibility that he and Emily might return as campers, in a tent or RV. It sounds like he's not quite ready.
". . . I am thinking it is time for someone else to start documenting changes, at least for now. . . until the grief passes, and I can once again focus on renewal."
I am so glad Jerry Vreeland was there "documenting changes" for the past few decades. He has given us a record of what we once had – and a reminder of what we still have – in Hunting Island State Park, and he has done so with great tenderness and devotion. It is not a "perfect" book. There are a few typos, a misspelled word here and there. Somehow, these flaws only endeared it to me more. This "small photographic book" is a lasting labor of love. Thank you, Jerry.
"Hunting Island, A Love Story in the Midst of Change" is available at local bookstores and gift shops, the Beaufort Chamber of Commerce, and at www.amazon.com
"Hunting Island Comes to Town"
A celebration of South Carolina's most popular state park and
the 20th Anniversary of the Friends of Hunting Island
– in collaboration with the Beaufort History Museum –
Hunting Island State Park & the Friends of Hunting Island invite you to an Opening Reception For a special exhibit showcasing Hunting Island, its history, beauty, and more
Thursday, 30 May
6:00-9:00 pm
Beaufort History Museum in City Hall
Music by The Sometimes Later Band
Drinks and light refreshments served
$10 Museum and Friends members
$15 Non-members, but only $10 for those joining the Museum or FOHI