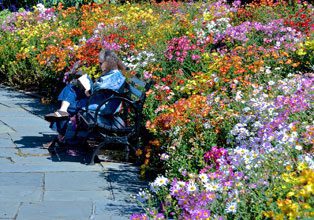 So you think you've got a black thumb – that you kill any plant you try to grow. We get lots of really desperate questions from gardeners at the Master Gardener booth during the warm months at the Farmers Market in Port Royal, but those questioners aren't the real Black Thumb brigade.
Instead, the supposed failed gardeners are usually the spouses or friends who linger in the background while the concerned grower asks the question.
The person with the Killer Digit may not even hang out near the Master Gardeners, even though we proclaim our willingness to try to answer any plant question with science-backed information, as well as an encouraging pat on the back, if needed. No, this self-described Black Thumb will usually disclaim any interest in growing plants, that he or she has given up trying, that it's just too frustrating. Is that you?
Well, I can pretty confidently assure you that I – a certified Master Gardener, mind you – have certainly killed hundreds more plants than you are ever likely to kill. If you're going to garden, it's going to happen, and sometimes it will happen a lot. The trick is to learn from these murderous episodes and to keep trying until you find something that works.
I was thinking about this the other day when I came across some suggestions from Steve Asbell, a garden blogger (therainforestgardener.com) who writes about the joys and tribulations of gardening in Florida's climate extremes. While Steve's focus was on the specifics of Florida gardening, I think I have come up with some excellent suggestions for frustrated gardeners here in our Lowcountry setting. Some will apply almost anywhere, some are really meant for Lowcountry gardeners; some will be very useful to the inexperienced or frustrated gardener – and even the Black Thumb gardener.
Here are some pointers you might consider if you've been going crazy trying to grow something here.
Relax.
If you've killed a few plants over the years or felt defeated by that not-blooming peony you bought; if your lawn is mostly brown patches of weeds or bare soil; if your cast-iron plant turns out to be a lily-livered wimp – just relax a bit. Really, we've all been there at one time or another. Start a compost pile for the failed learning experiences, and try something new. Ask a friend for suggestions about which plant to try, and be sure to ask what kind of conditions the plant requires. Then, just plow ahead. Don't give up.
Choose plants that will grow here in the Lowcountry.
It's easy to forget that not everything grows like kudzu in our often wonderful climate. Many plants, however, cannot survive our strange winters. We often have wet soil during much of the winter, the temperatures in January can be way below freezing or into the seventies and even higher.
Many plants, both ornamentals and fruits and vegetables, require a long period of relatively unbroken cold dormancy, and the Lowcountry just cannot promise that. Many fruit trees – varieties of peach, apple, pear, grape – have a "cold requirement" for successful fruiting. Some of these fruits have been developed with shorter cold requirements, so be sure to choose varieties which are suitable for our climate.
There is often a great temptation to try to grow tropical fruits here. Most often, citrus fruits, avocadoes, and bananas are attempted. Fortunately, if they are coddled, protected, and carefully tended, some varieties can successfully fruit here. Often, however, the long maturing season required extends well into frosty or freezing weather, and the crop is lost. Choose your varieties carefully, with advice from a local grower with experience, and be sure to follow the care recommendations.
Similarly, some of our favorite ornamentals are devastated by our summer heat or frustrated by our winters' shortened cold season. Lilacs are just going to frustrate you in the Lowcountry. Tulips are suitable only if treated as annuals or as pot plants. But camellias grow beautifully here, and many old-fashioned narcissus, crinums, and Dutch iris can ease your bulb envy by blooming superbly here.
Plant seasonal flowers and vegetables at the right time for our climate.
Trying to grow a crop of lettuce in our July heat will just make you yell. In fact, the height of summer is a terrible time for growing lots of veggies and flowers. Planting lettuce, carrots, cabbage, kale to grow in the cool season – even into winter – is much more successful than wishing they could cope with the summer heat. Save the summer vegetable gardening for okra, eggplant, hot peppers, and a few other crops. Even tomatoes, which we often think of as a hot summer crop, usually quit pollinating once the temperature stays above 75 at night or 90 during the day. There are some heat-tolerant varieties being marketed, so you could try those; or you could plan on tomatoes in the early summer season and again in the fall.
It's pointless to try to get nasturtiums to bloom through the summer, and you might as well give up on planning on a floral display in July and August from such beauties as snapdragons and pansies. They are magnificent, however, if treated as winter-bloomers.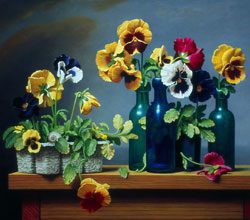 Take a look at the beautiful street medians and parks around town, filled with floral color much of the winter and early spring. Those lovely annuals which are grown in other parts of the country as summer flowers are much happier here if grown in the winter.
Choose healthy plants.
You'll want to learn what signs to look for which might indicate an unhealthy or poorly grown plant. I almost always take a plant out of its pot before buying (always making sure it's okay with the nursery first, of course) so I can look at its roots. They should be fresh and whitish, not brown and dry. I don't want to see thick roots or roots growing around the pot encircling the root ball.
Many times you'll see hundreds of plants for sale in the parking lot of one of the big box stores, wilting in the full sun, desperate for the occasional watering from an overworked store employee. Those periods of wilt, then water, then sun, then wilt again, can do great damage to the plant. Unless you're experimenting and don't really care if you lose the plant, you're better off not trying to grow one of these.
Check plants for dead branches, insects, black spots on leaves; instead choose plants that don't start out with problems. You'll have better luck keeping them alive.
Don't overwater! And don't overfeed!
This is a big one – everyone at some point seems to feel they simply MUST water that plant. It's looking healthy – so it must need water. It's looking poorly – it must need water. It hasn't been watered today – it must need water. NO! Overwatering waterlogs the soil, closing off precious air from the roots in the soil – they can drown! Try to make sure that the soil drains well, so the plant isn't ever sitting in water for a long time. Try not to water unless the soil feels dry just below the surface.
The same is true for fertilizer: too often we think a plant needs to be given lots of fertilizer to grow well. In fact, if a plant is growing well in soil that has the right drainage and the right amount of organic matter, fertilizer will just sit in the soil not taken up by the plant, or wash away with the first watering. It's wasted if the plant doesn't need it, and the chemical fertilizers often are harsh enough to actually damage the plant if applied incorrectly.
Learn to read the signs – yellowing leaves, tips turning brown, wilting – and learn what they mean.
Know what you're growing.
Be sure to find out what plant you're buying. Check the label, see if you can find the Latin name (yes, the Latin name; it is MUCH MUCH more exact and trustworthy in trying to identify your plant and its requirements.) and look up what light, water, and temperature (zone) requirements it has. It may not be suited for your intended space.
Check the label as well for the height and width of the mature plant. If it wants to be thirty feet high and ten feet wide, you'd best plant it where it can do that.
If you're getting a house plant or a tropical plant, it usually won't do very well outside in our winters, although many – including many orchids – can do very well outside during the warm months. Make certain you have room inside to grow them, providing them with enough light to stay healthy during the cold months.
Ask, Read, Ask.
You'll still kill some plants. We all do. But always ask friends, neighbors, Master Gardeners for guidance. This learning curve is one of the most satisfying you'll ever have.
Read about your plant and its relatives. Check online for information, although be very cautious about the accuracy of the information. That's why the information provided by the sites affiliated with universities or with national organizations specializing in certain plants are your best bets. Clemson has a fantastic web site overflowing with great information. That's www.clemson.edu/extension/hgic/ , and you can get information on just about anything garden related there.
Finally, my Black-Thumbed friend, don't give up. Make that compost pile of your killed plants provide you with gorgeous black soil for your plants. Learn to rely on your new circle of friends at the Master Gardener booth at the Farmers Market. Get yourself ready to be asked all kinds of questions by failed gardeners who have come to admire your obvious ability to grow lovely plants. There's a whole new world out there!