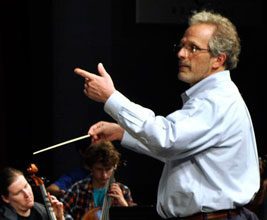 The Beaufort Symphony Orchestra's holiday season concert, "Winter Wonderland," will feature music director and conductor, Frederick Devyatkin, as soloist performing Bach's Concerto in A minor for Violin and Orchestra.  The orchestra will also perform a variety of popular holiday favorites to get everyone in the spirit of the season!
         Renown as a keyboard virtuoso, Johann Sebastian Bach was also an accomplished violinist.  His Concerto in A minor is a cherished mainstay of the violin repertoire that keeps concertgoers coming back for more, and though it features technical exercises it is obvious that Bach had something more lasting in mind when her wrote it around 1730.  An altogether more yearning and melancholy concerto than any of his others, he definitely meant for it to be a piece to showcase the violinist's skill and talent.  Don't miss this rare opportunity to enjoy Maestro Devyatkin in a virtuoso performance!
         The second of a five-concert season celebrating the orchestra's 30th Anniversary, "Winter Wonderland" will be performed on Thursday evening, Dec. 17, at 7:30, and on Sunday afternoon, Dec. 20, at 4:00.  The third concert will feature guest artist Tamas Kocsis in "Romantic Virtuosi" on Feb. 25 and 28, with Paganini's Concerto No. 1 in D, Opus 6, and with the orchestra in Mendelssohn's Symphony No. 3, "Scottish."  The spring concert will host the Savannah quintet Velvet Caravan in a salute to Django Reinhardt, "Slavic Swing," on May 12 and 15.
         A special fifth concert will showcase the adult orchestra and the 50-member Beaufort Symphony Youth Orchestra together on stage in a "Side by Side Gala" on April 10 at Beaufort High School Performing Arts Center.   To hear more about these outstanding concerts watch a video of music director Devyatkin  on the orchestra's website at www.beaufortorchestra.org . 
         All concerts with the exception of the "Side by Side Gala" will be held at the Sea Island Presbyterian Church on Lady's Island in Beaufort. A map with directions is also on the orchestra website and tickets can be purchased in advance on the website or go to www.TIX.com or call 1-800-595-4849.  Adult tickets are $40 and Student tickets are $15, and are also available at the door. 
         Concerts are funded in part by the SC Arts Commission which receives support from the National Endowment for the Arts.
An Open Letter to the Citizens of Beaufort from Ed Like, President of the Beaufort Symphony Orchestra Board of Directors

Dear Citizens of Beaufort,
After three decades of "Keeping the Music Live" for our Beaufort area audiences, the Beaufort Symphony Orchestra is in serious financial trouble for the first time in those 30 years.  Our ticket sales and donations for the 2015-2016 season have not met expectations, which means we face the possibility of having to cancel part of our season and discontinue our very popular Beaufort Symphony Youth Orchestra for students from third grade through senior high school.
                  There are over 100 school-age children participating in three orchestra programs, from the young beginners to the accomplished seniors.  A number of them attend State and Regional Honor Orchestras and the Governor's Honor School.  Our supporters fund summer music camps and help with private lessons, and we have awarded college scholarships to student members majoring in music.  A number will move up to the adult orchestra and many more will become our audiences of the future.
                  One of Beaufort's most brilliant cultural jewels, the Beaufort Symphony Orchestra brings the excitement of live classical, jazz, pop and even movie scores to provide music lovers with richly diverse concerts. 
                  All of this is in real danger of disappearing from Beaufort's entertainment scene unless you, our citizens and music lovers, believe in the value of having such live musical programs and commit to helping the orchestra remain solvent.   
            Supporters can do this in two ways:
            1) First, come to our performances!!! 
                  2) Second, please make a tax-deductible donation to our orchestra.  No amount is too small – it all adds up! 
                  Please go to our website at www.beaufortorchestra.org and click on the TIX logo to order tickets, preview the upcoming Christmas concert, make your seating selection and receive a special 10% discount for ordering any three of the remaining four concerts.  You can also make and additional tax deductable contribution on the website, or mail your check to the Beaufort Symphony Orchestra at PO Box 504, Beaufort, SC, 29901. 
                  On behalf of Maestro Devyatkin, our musicians, the members of our youth orchestra and our members of the board, thank you for your consideration of my request.  Together we can keep the musicians on the stage, allow our music director to create new and even more exciting programs for our enjoyment, and continue to nurture the young talent that is Beaufort's treasured musical future.
 
Sincerely,
Ed Like
President,  Beaufort Symphony Orchestra
Board of Directors