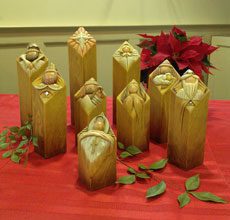 Hoping for a little more wonder – and a little less stress – in your holidays? Looking for a chance to slow down, breathe deep, and meditate on the reason for the season? 
         The Presbyterian Women of First Presbyterian Church invite you to come view a special collection of nativity scenes from around the world on exhibit in their fellowship hall the weekend of December 11-13. In just a few short years, the Nativity Celebration has become one of Beaufort's favorite Christmas events.
         "I began collecting nativities in the first year of my marriage," says one of the o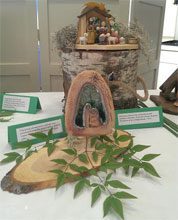 riginal organizers, Peggy Fryer. "I made my own out of papier mache, first. Several years later, my mother-in-law gave me one as a gift… When we traveled to Mexico, I saw a pottery scene and bought it. At some point, I began to collect nativities as souvenirs from our trips inside and outside this country. I found the figures representative of various cultures, telling the Christmas story from the viewpoints of the local people."
         The first year, Peggy and the Presbyterian Women started with about 55 creches on display, all collected by church members and friends. Today, the exhibit has grown to over 70.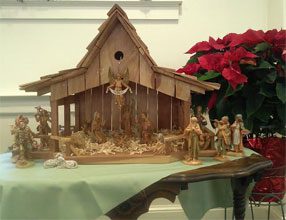 Member Donna Sheetz says, "Each one is unique in its own way, made from banana leaves to oyster shells to fine porcelain and every medium in between."
         The nativities will be on display December 11th and 12th from 10 am to 3 pm, and December 13th from 12 noon – 2 pm. Admission is free and the fellowship hall is handicap accessible. First Presybterian Church is located at the corner of Church and North Streets in downtown Beaufort. The fellowship hall is in the education building, across the street from the sanctuary.