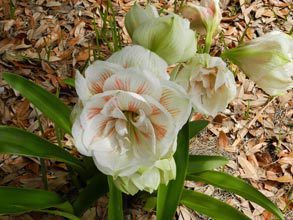 No, this has nothing to do with reality TV, just a chat about some of my plants that survived the winter of 2014. It is late April as I write this and I am still finding surprises. Every time I spy a tiny shoot, one that would normally have emerged months ago, I get a little lift.
Gardens are like that; they are living, breathing, always changing, always evolving and always giving pleasure – along with a few hiccups.
My latest "find" was the Odontonoma strictum, also known as Firespike, that sends up fiery red flowers in late summer through the first freeze. They attract hummingbirds in droves. There was no sign of life in these usually hardy perennials and it was a surprise to me when I thought I had lost them. Earlier this week I was surprised again when I saw some new growth. At first I thought the bit of green was a weed but slowly the leaves unfurled and my enthusiasm rose along with it. I also have a purple Odontonema callistachyum that normally blooms in early spring. It, too, appeared to be gone, but now has some new shoots emerging.
Another surprise was the Ruttya fruticosa, commonly called Jammy Mouth. This half hardy perennial has brilliant orange tubular flowers with a lip that appears to have a dribble of blackberry jam, hence the cutesy name. I am thrilled this one is returning.
A number of Clivia miniata lilies I had in the ground died, but one stalwart not only lived but has even bloomed this spring. This one apparently comes from very hardy stock and I will nurture it with care in hopes of propagating it. The very tropical looking Bilbergia nutans or Queens Tears took the cold in stride, although its first flowers were a bit thin.
As expected, a number of tropical plants – bromeliads, for one, and a large orchid cactus that had wrapped its limbs around an oak tree – are gone. One that has been hardy forever here, the Cassia bicapsularis, appears to be another of winter's casualties; there is no hint of growth. I have even poked around the base of the plant in vain looking for any signs of life. There is no new growth around the Duranta either. So sad.
Most of my Lantanas, always iffy in cold weather, did not make it this year; the exception was the cultivar 'Ann Marie.' I also lost a favorite Scutellaria suffrutescens, 'Red Fountains.' Several large cane begonias like 'Sophie Cecile,' that had been in the ground for years, did not survive; but imagine my surprise – shock, really – when several rhizomatous begonias popped up through the mulch. I had erroneously assumed that, with their fleshy rhizomes that creep along on the surface of the soil, they'd have frozen solid, but I was happily mistaken.
The amaryllis are the stars of my garden this week; they took the cold in stride and are good at filling in with some color after the azaleas are finished blooming and before the summer flowers start. They are super easy to care for, too. The one pictured here is Amaryllis 'Nymph,' a double white with brush strokes of pink on the petals. I could never pick a favorite flower but this one is among the top contenders.
If you haven't already done so, it is time to get some fertilizer for acid loving plants on the azaleas and camellias. Some compost and a fresh layer of mulch and they will be set up for the duration. My hardy water lilies are growing well and I have started their twice a month feeding with pond plant tabs. Everything else in the garden is getting some slow release fertilizer and compost. I plan on using colorful, fast growing coleus to fill in the bare spots left by the deceased plants this year. This gives me coverage for the summer and time to evaluate which hardier shrubs or perennials might do better in the future. I'll be ready to fill in those spots by the preferred planting time in fall.
The Lowcountry winter of 2014 really is over – finally – and in reality it was rather dramatic. Unlike TV drivel however, the surprises in your garden will always give you a beautiful and bountiful ending.
Do you have gardening questions? The Lowcountry Master Gardeners will be back at the Port Royal Farmers Market beginning on May 10th. The gardeners will be available at the gazebo between 11:00am and noon to help with your gardening problems. The Lunch & Learn classes will follow at 12:00pm. First up will be J. Weidner on "A Four Season Garden," how to have a beautiful garden throughout the year. Hope to see you there.