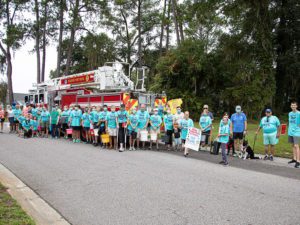 Registration is now open for the fifth annual Beaufort County Walk for Water on Saturday, Oct. 9.
Beaufort County Walk for Water promotes awareness of the global water crisis while raising money to provide sustainable, safe water around the world. All money raised benefits Water Mission, a nonprofit Christian engineering organization based in Charleston that builds safe water solutions in developing countries and disaster areas.
The walk will take place in dozens of locations across Beaufort County. Participants can find a convenient host location on the Walk for Water website at walkforwater.com/beaufortco and join that team, or create their own teams with family, friends, neighbors and co-workers. All preregistered participants get a free T-shirt, and those registered by Sept. 1 are guaranteed their preferred size.
Participants will be encouraged to carry a bucket of water on part of the 3-mile walk to symbolize the burden millions of women and children in developing countries carry daily to collect water that's often contaminated. That unsafe water has dire consequences: a person dies from water-related illness every 37 seconds somewhere in the world, according to Water Mission.
"As little as $25 can provide one person safe water for life," said Jim Pickard, Beaufort County Walk for Water committee chair. "$500 can create latrine sanitation for a community, and just over $1,000 can build solar panels for a power source."
Last year's walk attracted nearly 400 registered walkers and raised more than $58,000, despite the pandemic and the necessity of shifting from a large group event to small neighborhood walks. Based on that success, organizers have set aggressive goals of 750 participants and $75,000 raised through registration fees, sponsorships and donations.
"We're hoping a record number of people will help us 'pick up the bucket' this year," Pickard added.
For more information, to register or donate, visit the website at walkforwater.com/beaufortco or call 843-769-7395. For sponsorship information, contact Robert Lasher at 843-906-8118 or rlasher5519@gmail.com.