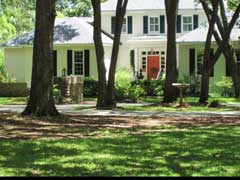 Signature designers add panache to Beaufort's history-laced Ashdale along the Morgan River on Lady's Island. Seven feature homes will be  open for public view during Beaufort's 9th Annual Homes for the Holiday's Gala and Tour, Friday, November 19 through Sunday, November 21. The Gala and walking tour benefit St. Peter Catholic School Educational Endowment Fund, which grants scholarship assistance to families who desire a faith-based education for their
children, but need support to do so. Scholarships were granted in 2005, and have continued since then. The tour weekend is an exuberant collaboration of community volunteers, generous and talented designers, and the most gracious of homeowners, all contributing to quality, faith-based education.
An elegant Gala and auction party ignites the event Friday evening with the ever popular "Headliners" in St. Peter Walsh Palmetto Room. Dancing, silent auction,  butler-passed hors d'oeuvres, open bar and lounge highlight the night. Tickets for Friday's Gala are $75 per person, with doors opening at 7 pm.
Local interior designers, florists, and garden design experts will lend seasonal punch to select homes in this gracious, time-honored neighborhood.
The former McKee Plantation and birthplace of Lydia Smalls, mother to Robert Smalls, Ashdale holds a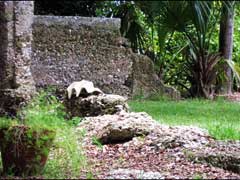 prominent place in Beaufort's past. Robert Smalls is perhaps the most influential black man in South Carolina history. Serving as Legislator and Congressman, he was instrumental in finalizing the state's legislation.  As Lydia's only child, Smalls spent his youth in downtown Beaufort and in Ashdale.  Developed in the 1970's as a riverfront community, homes along the
river cater to views that only a boater could imagine.  Ashdale continues to maintain its traditional, family-centered way of life, despite growth and a number of homes being new or newly-renovated.   "The overall effect here is one of warmth and tranquility," states Elizabeth Dardes, co-chairperson for the tour with Ashdale homeowner Mary Cunningham.  "It's a quiet, mid-century era neighborhood with spacious homesites shadowed by age-old oaks and crowned by a bank of the Morgan
River."
For the past eight years, the doors of homeowners in distinguished
settings throughout Beaufort have opened and the area's top designers have displayed the most up-to-date techniques in interior and garden design.
Designers sit at the helm of the tour this year, with natural materials, big-city looks, and the latest in "green" trends all present.  Although their talents and innovative ideas are poignant for each  tour, designers this year are encouraged by the Homes for the Holidays committee to use their unique and often art-infused merchandise for on-site purchasing.  The tour taps into the many chic and upscale shops, artists, and lively points of interest that amass this little spot of the Lowcounty.   A few designers are incorporating the historical aspect of the tour in their designated home, but most are just bestowing their talents. An added treat will be live entertainment and homemade sweets functioning as a nice reprieve along the tour.
Plan for a sparkling night of live music and dancing by "The Headliners," dinner, auction, and fun and a weekend of seasonal design finds in Beaufort's historically- laced Ashdale.
Tour days are Saturday, November 20 from 11am to 3pm and Sunday,
November 21 from noon to 3pm.  Tickets for the tour are $25 if purchased in advance and $30 the day of the tour.  Tickets for the gala and auction are $75 per person.  Tickets may be purchased by mail by calling (843) 522-6510 from October 15 – November 12.  Visa and MasterCard are accepted.  Tickets may be purchased in Beaufort at Bay Street Trading Company, The Chocolate Tree, and Tideland Realty.
For the week of November 13 – 18 tickets will be sold at the Vineyard Store on the St. Peter campus.  On Saturday and Sunday of the tour, tickets may be purchased at the tour's parking site, which is Beaufort Academy on Sam's Point Road.